Kiwi Orange Juice
This kiwi orange juice is a refreshing and healthy beverage that combines the sweet oranges with tart kiwis to create a fusion of flavors.
As an Amazon Associate and member of other affiliate programs, I earn from qualifying purchases. Please read Disclosure Policy for more details.
Are you looking for a healthy and refreshing drink? Look no further than this kiwi orange juice! Made with tangy kiwis and sweet oranges, this juice is packed with vitamins, minerals, and antioxidants to give you a boost of energy and support your overall health.
Kiwi Orange Juice is a delightful blend of freshly squeezed orange juice and ripe kiwi fruit. The juicy, sweet oranges complement the tartness of the kiwis while adding a burst of citrusy goodness. Together, these two fruits create a flavorful and nutritious drink that will leave you feeling refreshed and energized.
🥝 🍊 What You Will Need
Apart from kiwis and oranges, you will require a few other ingredients to make this delicious juice.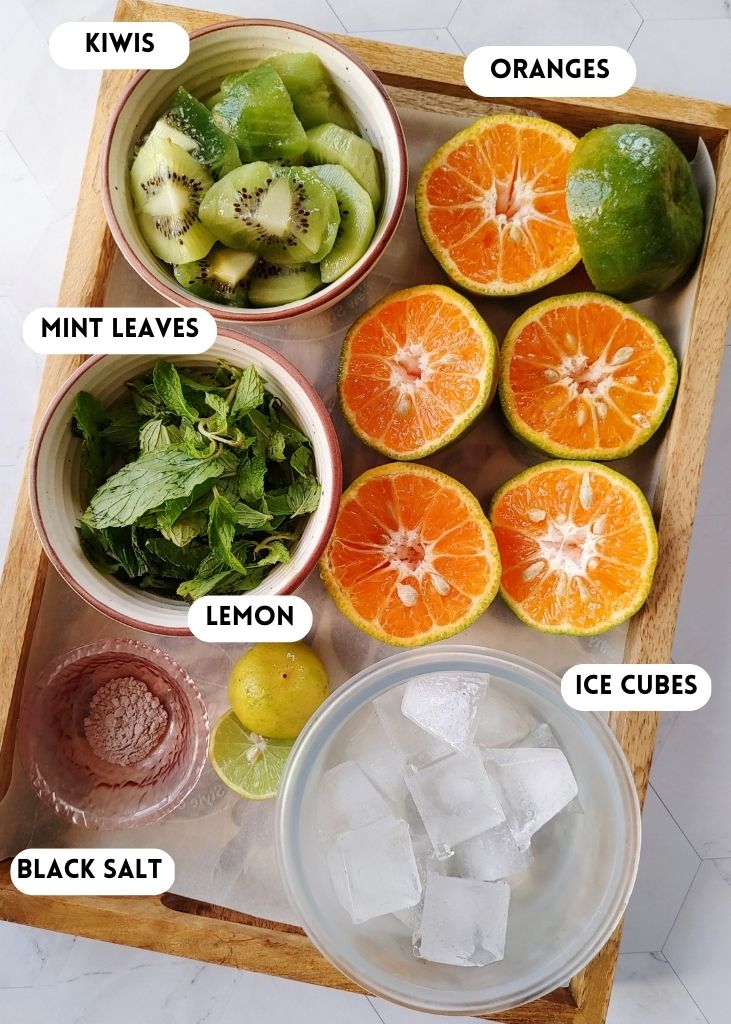 1. Kiwis
Kiwis, also known as kiwifruit, are small, oval-shaped fruit with brown fuzzy skin and green flesh (also available in yellow). They are grown in many parts of the world, with New Zealand being the top producer. They are a rich source of vitamins C and E, dietary fiber, and potassium. Both magnesium and potassium are essential minerals for body and muscle function. Since they have plenty of fiber, they promote healthy digestion. You can use either fresh or frozen kiwis. I have used fresh kiwis in this recipe.
2. Oranges
Oranges are citrus fruits that are high in potassium, folate, and vitamin C, which are essential for collagen production. Collagen is a protein that is important for skin health and can help reduce the appearance of wrinkles and fine lines.
3. Lemon juice
Lemons are high in vitamin C and fiber and provide several health benefits such as supporting heart health, weight management, and digestive health.
4. Mint leaves
Mint leaves are perfect for summer as they provide a cooling sensation and are suitable for digestion.
5. Honey (optional)
Honey is a natural sweetener. It is the perfect substitute for refined sugar and it boosts immunity. You can skip honey if the kiwis and oranges are sweet enough.
6. Black salt
Black salt gives a slight tangy taste to the juice.
7. Ice cubes
Ice for rehydration and cooling.
Note that the number of kiwis and oranges used can vary depending on their size and the desired amount of juice. Honey is an optional ingredient that can be added to taste. You can also add some cold water instead of ice cubes.
🔪 How To Make Kiwi Orange Juice
Here's a quick guide to help you prepare this refreshing drink:
Prepare the Fruits – Peel the kiwis and cut them into quarters. Cut the oranges in half, squeeze the juice, and strain.
Blend all the Ingredients- Add the fruits along with the remaining ingredients to a blender and blend until smooth.
Strain (Optional) – If you prefer pulp-free juice, strain the mixture using a fine-mesh strainer or cheesecloth. This step is optional and depends on your personal preference.
Serve and Enjoy – Pour the freshly made juice into glasses, add more ice cubes if desired, and serve immediately. The juice is best enjoyed when it's chilled.
❔ Frequently Asked Questions
Can I make kiwi orange juice ahead of time and store it?
While it is best to consume kiwi orange juice immediately after preparation to enjoy its freshness and maximum nutritional value, you can store it in the refrigerator in an airtight container for up to 24 hours.
Can I use frozen fruits to make kiwi orange juice?
Yes, you can use frozen kiwi and oranges to make kiwi orange juice. Frozen fruits can be a convenient option, especially when fresh fruits are not readily available.
Is kiwi orange juice suitable for all ages?
Yes, kiwi orange juice is suitable for people of all ages. However, if you have specific dietary restrictions, allergies, or other health conditions, it's best to consult with a healthcare professional before consuming this juice.
🍹 More Healthy Drinks To Try
Watermelon Mint Cooler (No Added Sugar!)
Immune Boosting Carrot Orange Juice
If you did make this recipe, do leave a rating and comment down below, we love hearing from you! Follow us on Instagram and Pinterest to get the latest updates. 💚
📖 Recipe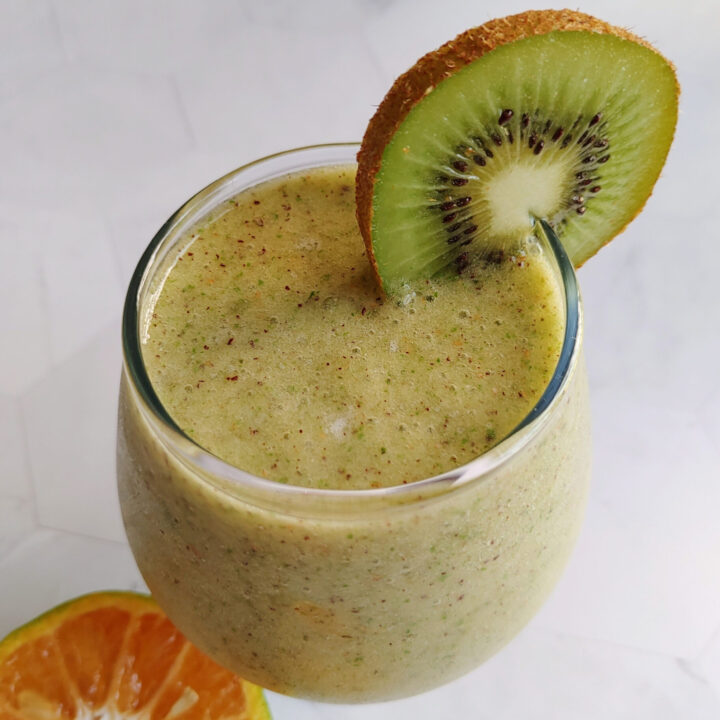 Kiwi Orange Juice
Kiwi Orange juice is a refreshing drink packed with Vitamin C, Minerals, and Natural Sugars!
Ingredients
4 kiwis
4 oranges
¼ cup fresh mint leaves, stems removed
¼ tsp black salt
1 Tbsp fresh lemon juice
1 cup ice cubes
Instructions
Peel the kiwis and cut them into quarters.

Cut the oranges in half, squeeze the juice, and strain.

Add all the ingredients to a blender and blend until slush is formed.

Serve cold and enjoy!

Nutrition Information
Yield

2
Serving Size

1
Amount Per Serving
Calories

234
Total Fat

1g
Saturated Fat

0g
Trans Fat

0g
Unsaturated Fat

1g
Cholesterol

0mg
Sodium

157mg
Carbohydrates

58g
Fiber

10g
Sugar

38g
Protein

4g
The nutrition info calculated is just a rough estimate and is provided as a courtesy. Bear in mind that value will vary based on variables like a specific brand or type of product used. To obtain the most accurate representation, it is highly recommended that you calculate it on your own with the actual amount and type of ingredient used.