Classic Tomato Soup
Enjoy this steaming hot bowl of tomato soup, made with fresh tomato, onion and garlic, seasoned with Italian herbs and garnished with roasted dry fruits and croutons.
As an Amazon Associate and member of other affiliate programs, I earn from qualifying purchases. Please read Disclosure Policy for more details.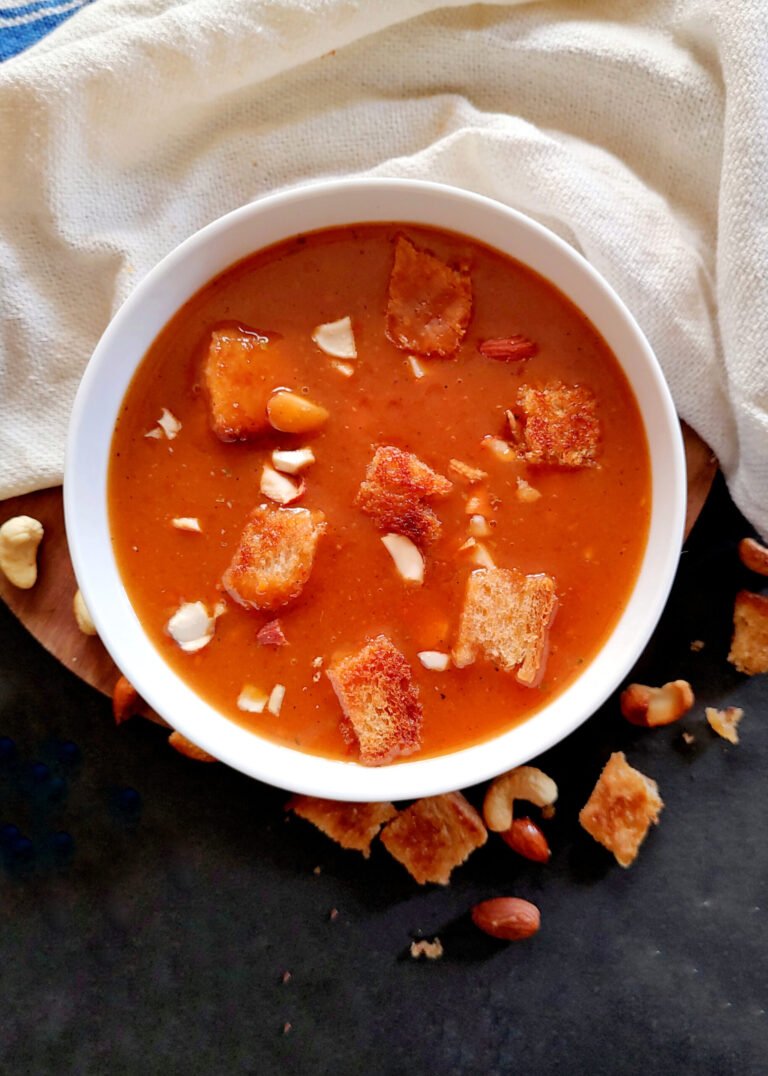 I love having soups during winter and especially this simple classic tomato soup is my go-to recipe. It's so fresh, deliciously rich with flavors, and easy to make.
If you did make this recipe, do leave a rating and comment down below, we love hearing from you! Follow us on Instagram and Pinterest to get the latest updates. 💚
Classic Tomato Soup
This simple classic tomato soup is so fresh, deliciously rich with flavors, and easy to make.
Ingredients
For Soup
1 tsp vegetable oil or butter
1 medium-size onion, chopped
2 cloves garlic, crushed
6 medium-size tomatoes, chopped
2 cups water
1 tsp salt
1/2 tsp sugar
1/2 tsp cornstarch
1 tsp dried basil
1/2 tsp paprika
1/4 tsp red chilli flakes
1/4 tsp ground black pepper
1 tsp ground cumin
For Toppings
2 Tbsp butter
1/2 cup bread cubes (bread cut into cubes of around 1 cm each)
1/4 cup cashew and almonds
Instructions
Add oil and onion to a pot on medium heat. Stir and saute for about 3-5 mins until the onions caramelize.

Once caramelized, add garlic and stir until golden, for about 2 mins.
Add the tomatoes, and salt and mix well.

Cover the pot with a lid and simmer on low to medium heat until tomatoes soften or for about 8-10 minutes, then add water along with the spices. Add cornstarch to a half cup of water, stir and add it to the soup.

Meanwhile, heat butter in a frying pan on low heat and add almonds and cashews, roast them until golden, and once done transfer them to a bowl and let them cool. In the same pan add the bread cubes. Pan fry for 4-5 mins, stirring often until the croutons are golden and crispy.

Bring the soup to a boil while stirring continuously to avoid lumps, simmer for 3 mins. Blend the soup with an immersion blender until creamy. Alternatively, turn off the heat, let the soup cool for a few mins, and then blend in a mixer blender.
Again heat a large pot on medium heat, transfer the blended soup and let it boil for a few mins until you get a creamy consistency.

Serve hot with roasted cashews and almonds and crispy croutons.

Nutrition Information
Yield

2
Serving Size

1
Amount Per Serving
Calories

408
Total Fat

29g
Saturated Fat

13g
Trans Fat

1g
Unsaturated Fat

14g
Cholesterol

46mg
Sodium

1497mg
Carbohydrates

34g
Fiber

7g
Sugar

15g
Protein

8g
The nutrition info calculated is just a rough estimate and is provided as a courtesy. Bear in mind that value will vary based on variables like a specific brand or type of product used. To obtain the most accurate representation, it is highly recommended that you calculate it on your own with the actual amount and type of ingredient used.