Watermelon Mint Cooler (No Added Sugar!)
This watermelon mint cooler is a super refreshing and healthy drink to sip on throughout the summer.
As an Amazon Associate and member of other affiliate programs, I earn from qualifying purchases. Please read Disclosure Policy for more details.
As the temperature rises during the summer months, there's nothing more refreshing than a cool and delicious drink. And what better way to quench your thirst than with a tasty watermelon mint cooler? This recipe is not only delicious but also healthy and easy to make.
Watermelon is a summer fruit that is rich in vitamins and antioxidants, making it an ideal ingredient for a refreshing drink. It is also low in calories and has high water content, making it a perfect hydrating option. Mint, on the other hand, adds a fresh and invigorating flavor to the drink while also providing several health benefits.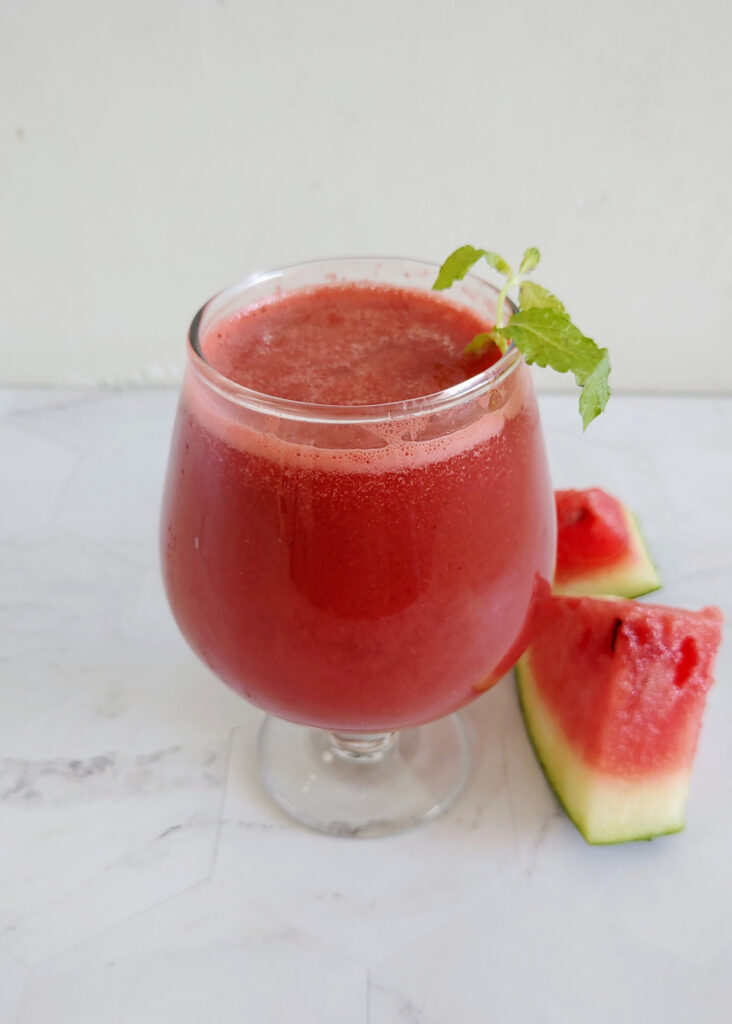 💚 Why You Will Love This Recipe
Watermelon Mint Cooler is not only a tasty drink but also a healthy one. Here are some of the health benefits that this drink provides:
Hydration: Watermelon is an excellent source of hydration, making it a perfect summer fruit. The high water content in watermelon can help keep you hydrated, especially during hot summer days.
Antioxidants: Watermelon is rich in antioxidants, such as lycopene, which can help reduce inflammation and protect against cellular damage.
Digestive Health: Mint contains compounds that can help improve digestion and alleviate digestive issues such as bloating and indigestion.
Immune Boosting: Watermelon contains vitamin C, which can help boost the immune system and protect against illnesses.
🍉 What You Will Need
By using the following simple fresh ingredients, you will be able to make a watermelon mint cooler that will be a hit at any summer gathering:
Watermelon
Fresh Mint Leaves
Fresh Lemon Juice
Black Salt
Ground Black Pepper
Ice cubes
🔪 How To Make Watermelon Mint Cooler
Begin by washing and chopping the watermelon into small pieces. Remove the seeds and set aside.
In a blender, add all the ingredients and blend until the mixture is smooth.
Strain the mixture into a large pitcher using a fine-mesh strainer to remove any pulp and seeds.
If the juice is not cold enough, chill it in the refrigerator for at least 1 hour.
When ready to serve, fill glasses with ice cubes, if desired, and pour the chilled cooler over the ice.
Garnish with fresh mint leaves and serve immediately.
✔️ Helpful Tips
For a stronger mint flavor, add more fresh mint leaves to the mixture.
Can add a sweetener such as honey to your taste preference. You can also substitute honey with your preferred sweetener.
You can also add soda to the watermelon mint cooler to make it a refreshing mojito.
🍹 More Healthy Drinks To Try
If you did make this recipe, do leave a rating and comment down below, we love hearing from you! Follow us on Instagram and Pinterest to get the latest updates. 💚
📖 Recipe
Watermelon Mint Cooler (No Added Sugar!)
This watermelon mint cooler is a super refreshing and healthy drink to sip on throughout the summer.
Ingredients
4 cups watermelon (cut into small chunks and deseeded)
½ cup fresh mint leaves, stems removed
1 Tbsp fresh lemon juice
½ tsp black salt
¼ tsp ground black pepper
1 cup ice cubes
Instructions
Add all the ingredients to a blender and blitz for 1-2 minutes.
Strain the juice through a strainer into a pitcher or a jar and discard the pulp.
Pour the juice into a glass. Add ice cubes, if desired.
Serve fresh and enjoy!

Nutrition Information
Yield

3
Serving Size

1
Amount Per Serving
Calories

65
Total Fat

0g
Saturated Fat

0g
Trans Fat

0g
Unsaturated Fat

0g
Cholesterol

0mg
Sodium

394mg
Carbohydrates

16g
Fiber

1g
Sugar

13g
Protein

1g
The nutrition info calculated is just a rough estimate and is provided as a courtesy. Bear in mind that value will vary based on variables like a specific brand or type of product used. To obtain the most accurate representation, it is highly recommended that you calculate it on your own with the actual amount and type of ingredient used.