Crunchy Masala Roasted Chickpeas
These crunchy masala roasted chickpeas are seasoned with dry herbs and spices and make a great protein-packed vegan snack!
As an Amazon Associate and member of other affiliate programs, I earn from qualifying purchases. Please read Disclosure Policy for more details.
If you are looking for a healthy snack recipe and like chickpeas, then look no further! These crunchy roasted chickpeas are delicious, inexpensive, and super-easy to make. They are low in calories and packed with protein and fiber. You can enjoy them in soups or salads instead of adding croutons.
💚 Why You Will Love This Recipe
You will enjoy these crunchy masala roasted chickpeas because they are:
Easy to make: The recipe is simple and straightforward, with easy-to-follow instructions, making it accessible for even beginner cooks.
Healthy snack option: Roasted chickpeas are a healthier alternative to traditional snack foods like chips and candy. They are high in protein, fiber, and several important vitamins and minerals, making them a great snack option for anyone looking to eat healthier.
Delicious: The combination of spices used in this recipe adds a burst of flavor to the chickpeas, making them a tasty and satisfying snack.
Versatile: Roasted chickpeas can be seasoned with a variety of spices, so you can easily customize the recipe to your personal taste preferences. They can also be added to salads or used as a topping for soups and stews.
🥘 What You Will Need
Chickpeas: You can prepare chickpeas beforehand. Rinse and soak about 2 cups of chickpeas for 6-7 hours or overnight, then drain and pressure cook them over low-medium heat for 4-5 whistles. Once boiled, drain and dry before using.
Seasonings: I have used a bunch of dry herbs and spices such as oregano, red chilli flakes, garlic powder, onion powder, salt, ground black pepper, and chaat masala. You can use whatever spices you like.
Lemon Juice: Lemon provides more tanginess to the chickpeas. I love to squeeze some fresh lemon juice on roasted chickpeas just before serving. If you add too early, it may soften the crispy chickpeas.
Olive Oil: You can use less or more but don't skimp on the olive oil, else your chickpeas will not be crunchy.
⏲️ How to Make Masala Roasted Chickpeas
Prepare the chickpeas
Once the chickpeas are boiled, drain and dry them properly before tossing them with spices and olive oil. Moisture in chickpeas can ruin them while baking and you will not get the crispiest roasted chickpeas. So, dry them after boiling by either spreading on a kitchen towel and rubbing them gently or leaving them in a tray for some time to dry.
Be generous with the seasonings
It's a fun recipe to make. So, go all in with the seasonings! Use whatever you have in hand and adjust the amount as per your liking.
Use parchment paper
I recommend using parchment paper for roasting the chickpeas. Parchment paper helps prevent the seasoned chickpeas from sticking to the baking tray.
Eat them fast!
These roasted chickpeas lose their texture and crispiness after a few hours. So, they taste best when eaten right away (within an hour or two of being roasted).
If you do need to store them, let them cool completely. Then store in a container (not completely closed) at room temperature for up to 1 day.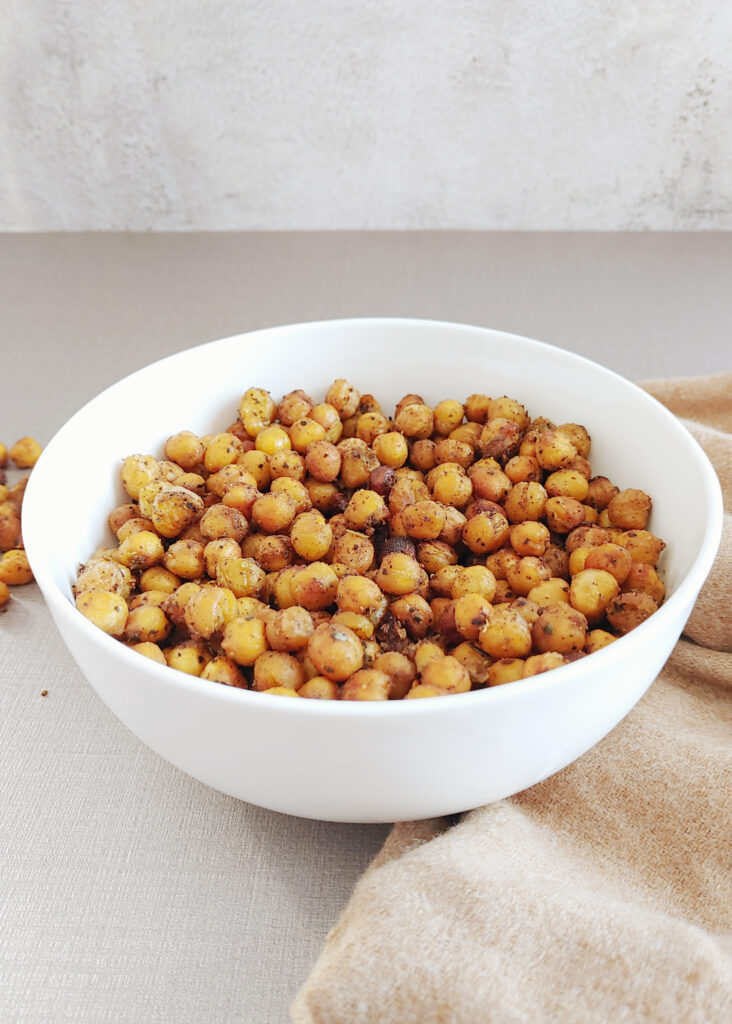 🍽️ More Healthy Snack Recipes to Try
Potato Masala Veg Grilled Sandwich
If you did make this recipe, do leave a rating and comment down below, we love hearing from you! Follow us on Instagram and Pinterest to get the latest updates. 💚
📖 Recipe
Crunchy Masala Roasted Chickpeas
Total Time:
8 hours
5 minutes
These crunchy masala roasted chickpeas are seasoned with dry herbs and spices and make a great protein-packed vegan snack! 
Ingredients
2 cups boiled chickpeas
½ Tbsp dry oregano
½ Tbsp red chilli flakes
1 tsp garlic powder
1 tsp onion powder
½ tsp salt
½ tsp ground black pepper
½ tsp chaat masala
1 Tbsp olive oil
1 Tbsp fresh lemon juice
Instructions
Preheat the oven to 220°C (428°F) for 10 minutes.
In a large bowl, combine the chickpeas, seasonings, and olive oil.
Spread the seasoned chickpeas onto a parchment-lined baking tray and bake for 40-45 minutes or until golden and crispy. Mix them once halfway.
Once baked, let them cool, and add lemon juice just before serving. Enjoy them on their own or in salads, wraps, or soups.

Nutrition Information
Yield

6
Serving Size

1
Amount Per Serving
Calories

117
Total Fat

4g
Saturated Fat

1g
Trans Fat

0g
Unsaturated Fat

3g
Cholesterol

0mg
Sodium

204mg
Carbohydrates

16g
Fiber

5g
Sugar

3g
Protein

5g
The nutrition info calculated is just a rough estimate and is provided as a courtesy. Bear in mind that value will vary based on variables like a specific brand or type of product used. To obtain the most accurate representation, it is highly recommended that you calculate it on your own with the actual amount and type of ingredient used.