Amla Ginger Shot
This amla ginger shot or juice helps boost energy, immunity, and overall health.
As an Amazon Associate and member of other affiliate programs, I earn from qualifying purchases. Please read Disclosure Policy for more details.
Ginger shots are an effective and convenient way to consume ginger. They have become quite popular in recent years and for all good reasons. They are also called wellness shots, in which concentrated doses of nutrients and natural ingredients are packed into small, potent servings.
👍 Benefits of Ginger Shots
Ginger shots offer an array of potential health benefits. Let's explore some of the key advantages that make them a popular choice among health enthusiasts:
Digestive Aid: Ginger has long been cherished for its ability to alleviate digestive issues such as nausea, indigestion, and bloating. Ginger shots can provide quick relief and promote a healthy gut.
Anti-Inflammatory Properties: Ginger contains potent anti-inflammatory compounds called gingerols, which can help reduce inflammation in the body.
Boost Immunity: The immune-boosting properties of ginger shots can be attributed to their high levels of antioxidants. Ginger shots may help strengthen the immune system, making it more resilient against infections and diseases.
Energy and Mental Clarity: These shots can provide a natural energy boost and improve mental focus.
Weight Management: Ginger shots are often included in weight loss regimens due to their potential to enhance metabolism and aid in appetite control. Incorporating ginger shots into a balanced diet and exercise routine may support healthy weight management.
🍋What You Will Need
This amla ginger shot recipe is simple and requires just a few ingredients.
Here's what you'll need:
Fresh Ginger Root
Fresh Amla (Indian Gooseberry)
Lemon
Honey
Ground Turmeric
Ground Black Pepper
Black Salt
Water
🔪 How to Make Amla Ginger Shot
Wash amla and remove seeds
Start by washing amla and then remove and discard seeds.
Wash, peel, and chop ginger
Next, wash and peel ginger either using a vegetable peeler or a spoon to remove the skin. Then chop it into small pieces.
Blend all the ingredients
Add all the ingredients to a blender and blend until ginger and amla break down properly.
Strain the juice
Finally, strain the juice using a strainer or a muslin cloth, squeezing out as much juice as possible. Pour the ginger shot into a jar or bottle and store it in the refrigerator for up to one week. Shake well before consuming straight or dilute it with water(if desired) every morning on an empty stomach.
❄️ Storage and Serving Recommendations
Store the juice in a bottle in the refrigerator for up to a week. Shake the bottle well before use and enjoy 30 ml of shot every day, first thing in the morning (about 20-30 minutes before breakfast).
Overall this wellness shot is healthy and safe but consuming too much of it in one go could cause heartburn or stomach upset. So, if you are not used to drinking this, start slowly, about 15 ml every day, and increase the dose gradually but do not have more than 30-35 ml each day.
If you find the flavor strong, try adding more honey or any other sugar-free sweetener.
You could mix the shot into other drinks such as lemonade, iced tea, or smoothie.
If you don't mind the pulp for extra fiber, don't strain the juice, or else you can use the leftover pulp for smoothies.
❔ Frequently Asked Questions
Can I consume the amla ginger shot every day?
Yes, you can consume the amla ginger shot daily. However, it is advisable to listen to your body and adjust the frequency according to your individual needs and preferences.
Can I use powdered ginger or amla instead of fresh ingredients?
While fresh ingredients are recommended for optimal taste and nutrient content, you can use powdered ginger or amla if fresh options are not readily available. However, keep in mind that the flavors and overall experience may vary.
🎉 More Amla…
If you did make this recipe, do leave a rating and comment down below, we love hearing from you! Follow us on Instagram and Pinterest to get the latest updates. 💚
📖 Recipe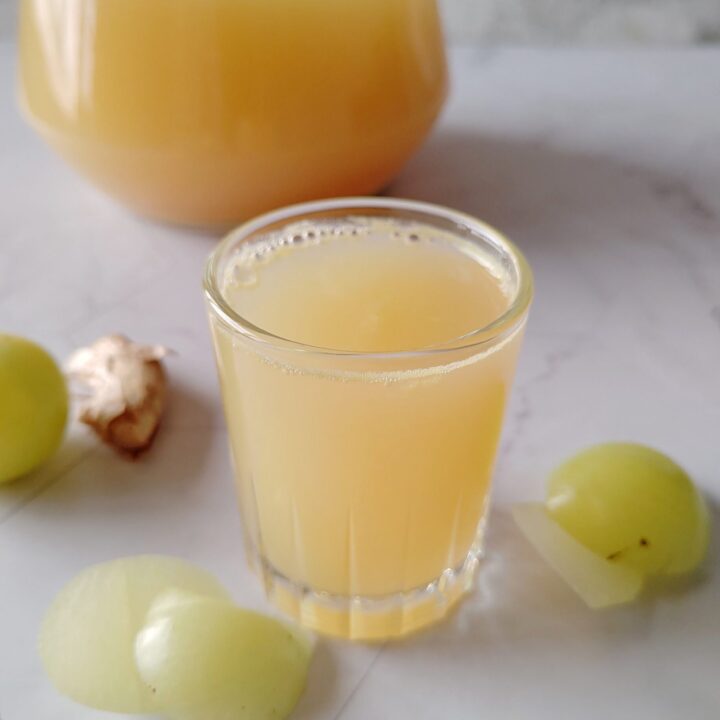 Amla Ginger Shot
The perfect wellness shot recipe with healthy skin, immune boosting, and many other health benefits.
Ingredients
100 g ginger, peeled and chopped
150 g amla, deseeded and chopped
1 Tbsp fresh lemon juice
2 Tbsp honey
¼ tsp ground turmeric
⅛ tsp ground black pepper
¼ tsp black salt
4 cups water
Instructions
Add all the ingredients to a blender and blend until smooth.
Strain the juice using a strainer or muslin cloth to remove the pulp.
Store in a bottle in the fridge and enjoy a shot every day on empty stomach.

Nutrition Information
Yield

27
Serving Size

1
Amount Per Serving
Calories

8
Total Fat

0g
Saturated Fat

0g
Trans Fat

0g
Unsaturated Fat

0g
Cholesterol

0mg
Sodium

23mg
Carbohydrates

2g
Fiber

0g
Sugar

1g
Protein

0g
The nutrition info calculated is just a rough estimate and is provided as a courtesy. Bear in mind that value will vary based on variables like a specific brand or type of product used. To obtain the most accurate representation, it is highly recommended that you calculate it on your own with the actual amount and type of ingredient used.