Bean and Mushroom Beet Tacos
These healthy bean and mushroom beet tacos are simple to make and packed with so much flavor.
As an Amazon Associate and member of other affiliate programs, I earn from qualifying purchases. Please read Disclosure Policy for more details.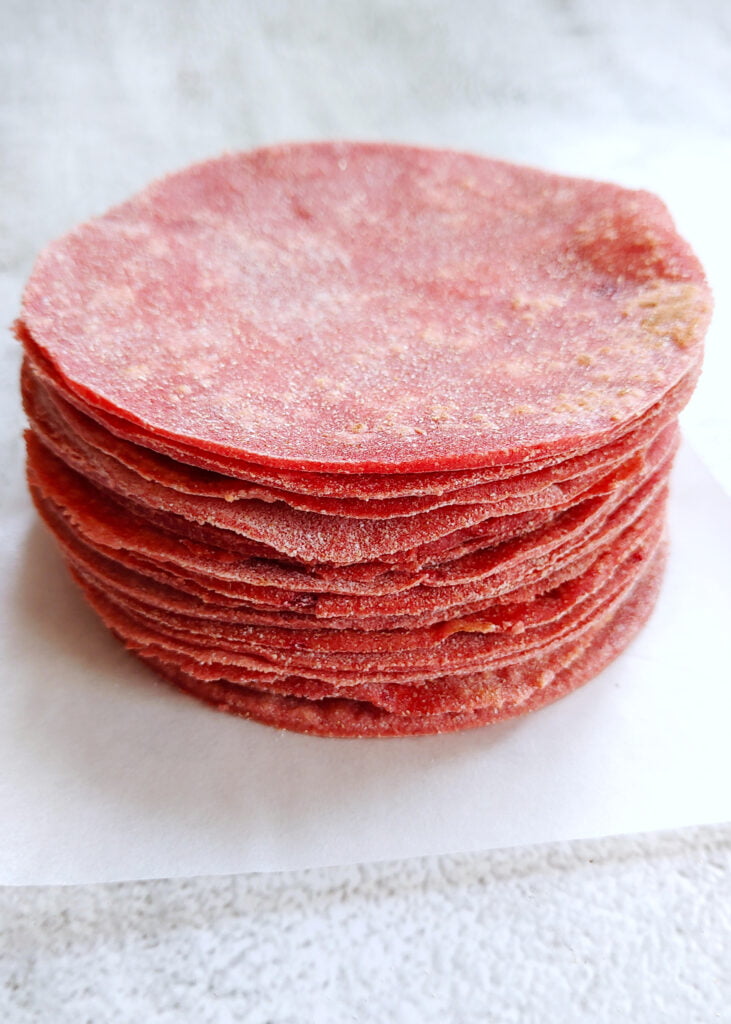 If you did make this recipe, do leave a rating and comment down below, we love hearing from you! Follow us on Instagram and Pinterest to get the latest updates. 💚
Bean and Mushroom Beet Tacos
Total Time:
1 hour
15 minutes
Super tasty and satisfying meal that is loaded with all the good stuff.
Ingredients
For Beet Tortillas
2 small beetroots
1 Tbsp vegetable oil (neutral flavor)
¼ tsp salt
¼ tsp ground black pepper
½ cup corn flour
½ cup rice flour
1 cup whole wheat flour
water as required
For Bean and Mushroom Filling
1 Tbsp vegetable oil (neutral flavor)
4-5 garlic cloves, minced
1 medium-size onion, finely chopped
2 cups button mushrooms, sliced
½ cup red kidney beans, boiled
1 tsp red chilli flakes
½ tsp soy sauce
1 tsp salt
2 Tbsp sweet and spicy mango sauce
For Toppings
2 cups yogurt
¼ tsp salt
½ cup coriander leaves, finely chopped
1 Tbsp lemon juice
2 cups tomatoes, deseeded and finely chopped
1 tsp sugar
2 cups mangoes, finely chopped
2 cups capsicum, finely chopped
1 large onion, thinly sliced
Instructions
Peel and chop the beetroots into wedges, and then place them in a steamer above 2 inches of water. Bring to a boil over high heat and cover. Turn down heat to medium. Steam for 30 minutes, or until the beets are tender and you can pierce the beets with a knife or skewer.
The other method is - preheat the oven to 180°C (356°F). Peel and chop the beets into wedges. Set on aluminum foil, drizzle with oil, and sprinkle with salt and pepper. Toss to coat, then fold and seal the aluminum foil to form a pouch. Bake for 50 minutes, or until the beets are tender and you can pierce the beets with a knife or skewer.
Once the beets are steamed, let them cool down. Transfer them to a blender and blend until you get a smooth puree.
To a large mixing bowl, add corn flour, rice flour, whole wheat flour, and beet puree. Then slowly add in water as required and knead a semi-soft dough. Set the dough aside to rest for at least 30 minutes.
Meanwhile, prepare the bean and mushroom filling. Place a frying pan on medium heat and add vegetable oil. Once the oil is hot, add garlic and onions, and saute for 3-4 minutes. Then add mushrooms and cook for about 7-10 minutes or until they are soft . Add boiled beans, red chilli flakes, soy sauce, salt, and sweet and spicy mango sauce. Mix everything well, cover the pan and cook for about 5 minutes. Once done, set it aside.
To prepare the yogurt spread, take a medium-size mixing bowl and add yogurt, salt, finely chopped coriander leaves, and lemon juice. Mix everything well and keep it in the fridge to chill.

To a medium-size bowl, mix tomatoes and sugar. Set aside.
To make the tortillas, knead the dough once again and make small balls. Take a ball and gently roll over the platform or board using a rolling pin into thin chappatis. Dust some flour if required. You can also use a small plate to cut even-shaped tortillas.
Heat a flat pan on medium flame and cook the tortillas on both sides till brown spots appear. Cover all the cooked tortillas with a cloth.
Now to assemble the tacos, place the tortillas on a plate and first spread the bean mushroom filling, add the yogurt spread, top with tomato filling, and pile chopped mangoes, capsicum, and onions.
Finally, serve and enjoy!

Nutrition Information
Yield

4
Serving Size

1
Amount Per Serving
Calories

621
Total Fat

12g
Saturated Fat

2g
Trans Fat

0g
Unsaturated Fat

9g
Cholesterol

8mg
Sodium

1177mg
Carbohydrates

115g
Fiber

15g
Sugar

47g
Protein

21g
The nutrition info calculated is just a rough estimate and is provided as a courtesy. Bear in mind that value will vary based on variables like a specific brand or type of product used. To obtain the most accurate representation, it is highly recommended that you calculate it on your own with the actual amount and type of ingredient used.