How to Make Crispy Baked Potato Wedges
This simple crispy baked potato wedges recipe is full of so many flavors and will easily become your favorite comfort food.
As an Amazon Associate and member of other affiliate programs, I earn from qualifying purchases. Please read Disclosure Policy for more details.
These soft, tender, and crispy oven-baked potato wedges are such a classic side dish or an appetizer. Best of all, seasoning them with herbs and spices enhances the flavor and makes them irresistible.
Since these potato wedges are baked, they are healthier than the usual deep-fried French Fries.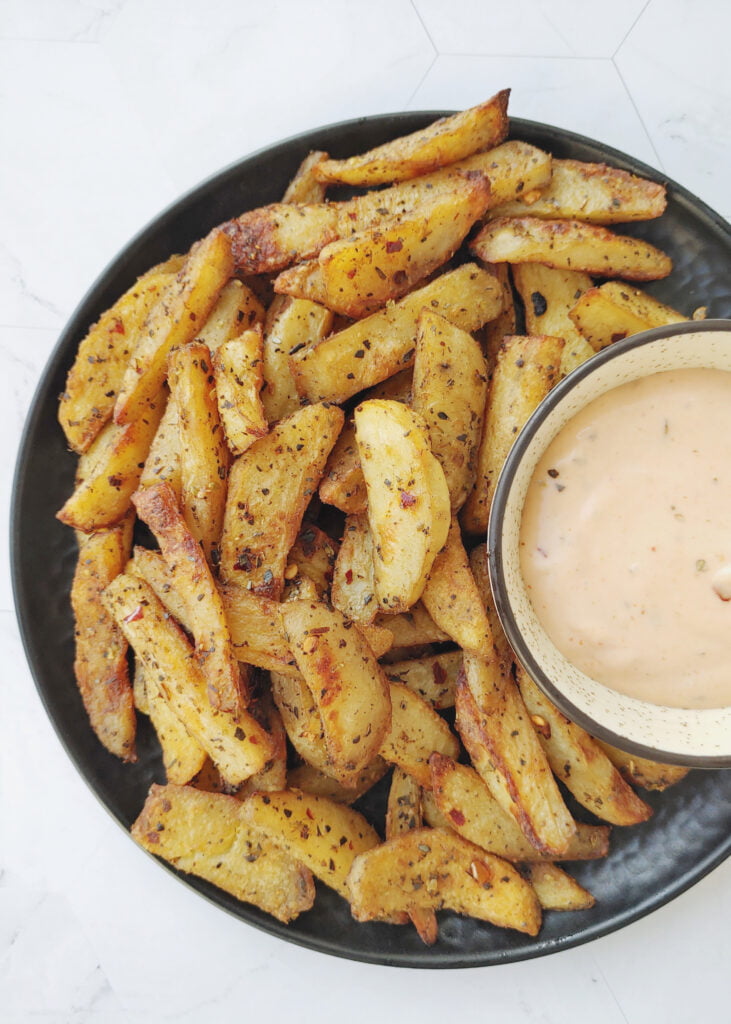 🥔 What You Will Need
This baked potato wedges recipe requires a few basic ingredients and some dry herbs and spices to make them a delicious snack:
Potatoes – use 5-6 medium size potatoes, preferably long
Olive Oil – helps the potatoes turn golden brown and crispy
Garlic Powder, Onion Powder, & Ginger Powder – add plenty of flavors to the potatoes, best to use them ground as they won't burn when roasted at high temperatures
Chaat Masala – an ABSOLUTE essential ingredient! gives a little bit of tanginess and sweetness to the potatoes
Black Pepper Powder – adds a bit of spice, can also use freshly ground pepper and add more to taste
Salt – a must-have ingredient! balances the flavor and without it, the potatoes will be bland, adjust the amount as per your taste
Dry Oregano – a flavorful dry herb, can also use other dry herbs such as thyme, basil
Red Chilli Flakes – make the potatoes spicy and balance the flavors, can use red chilli powder instead
✔️ Quick Tips on How to Make Baked Potato Wedges
Soak the sliced potatoes in about 2 cups of ice-cold water for 30 minutes, then pat dry with paper towels. Alternatively, you can boil the raw potato slices in hot water for 10 minutes. These methods help release some of the starch in the potatoes and let them absorb moisture, which leads to slightly crisp outsides and moist interiors.
Slice the potatoes into equal wedges so they bake evenly.
Season generously with dry herbs and spices.
Arrange the potatoes evenly across the pan and do not overlap the slices.
Give a gentle flip once halfway through baking so that both sides are cooked properly.
Serve them with ketchup or a mayonnaise dip.
Turn these wedges into cheesy fries by sprinkling some grated cheese on top and then bake for 5-10 minutes or until the cheese melts.
🍟 Serving Suggestions
Potato wedges are a great healthy snack on their own, with ketchup, or mayonnaise. You can also pair them well with :
❔ Commonly Asked Questions
How do I keep the potato wedges from sticking?
I would recommend not baking the potatoes without a baking sheet, as they tend to stick to the pan. So you should line your baking tray with parchment paper and allow the wedges to roast for 15-20 minutes. Once they have crisped up on one side, you should flip them halfway. Then bake them for a few more minutes until they turn golden brown and crispy.
Also, make sure that you don't overcrowd or overlap the potatoes while placing them on the baking tray. Spread them out evenly or in a single layer and bake.
Can I skip soaking the potatoes in ice-cold water or boiling them in hot water?
If you're really short on time you can skip this step, but they might not turn out soft and crispy. Soaking the potatoes helps to draw out the starch, making the baked potato wedges soft on the inside and extra crispy on the outside.
If you don't have enough time to soak in ice-cold water for 30 minutes, then try to boil in hot water for 10 minutes, not more than that. Either method will work.
If you want to completely skip this step and still want the crispiest potatoes, then coat them with about 1 Tablespoon of cornstarch along with other ingredients before baking.
🍽️ More Snack Recipes
Chilli Oil Glazed Oven Roasted Potatoes
Honey Chilli Potatoes (With Baked Fries)
Crunchy Masala Roasted Chickpeas
Potato Masala Veg Grilled Sandwich
If you did make this recipe, do leave a rating and comment down below, we love hearing from you! Follow us on Instagram and Pinterest to get the latest updates. 💚
📖 Recipe
Crispy Baked Potato Wedges
Total Time:
1 hour
20 minutes
Soft, tender, and crispy baked potato wedges, mixed with dry spices and herbs seasoning and served with mayo dip.
Ingredients
For Potato Wedges
For Mayo Dip
3 Tbsp eggless mayonnaise
½ tsp green chilli sauce
½ tsp sweet red chilli sauce
1 tsp ketchup
½ tsp dry oregano
¼ tsp red chilli flakes
Instructions
Peel the potatoes and cut each potato in half lengthways, then cut each half in half lengthways again, until you have wedges of about the same thickness and size.

Soak the sliced potatoes in about 2 cups of ice-cold water for 30 minutes, then pat dry with paper towels. Alternatively, you can boil the raw potato slices in hot water for 10 minutes. Then rinse them under cold water and pat dry with paper towels.

Preheat the oven to 200°C (392°F) for 10 minutes and line a baking tray with parchment paper.

Place the potatoes in a large bowl, and add olive oil and all the seasoning and spices. Coat the potatoes well and spread them evenly on the baking tray.

Bake at 200°C (392°F) for 35-40 minutes or until golden brown in color. Give them a gentle flip once halfway.

Meanwhile, prepare the mayo dip by combining all the ingredients for the dip in a small bowl.

When the potatoes are done, transfer them to a serving plate and serve with the prepared mayo dip.

Notes
If desired, you can flavor these potato wedges with chopped coriander, mint leaves, or green onion.
You can also make cheese fries out of these potato wedges. Once baked and mixed with herbs and spices, sprinkle generously with mozzarella cheese or shredded cheddar cheese. Return them to the oven and bake for 5 to 10 minutes, until golden and bubbly on the top.
Nutrition Information
Yield

2
Serving Size

1
Amount Per Serving
Calories

798
Total Fat

31g
Saturated Fat

5g
Trans Fat

0g
Unsaturated Fat

25g
Cholesterol

10mg
Sodium

1088mg
Carbohydrates

120g
Fiber

14g
Sugar

11g
Protein

15g
The nutrition info calculated is just a rough estimate and is provided as a courtesy. Bear in mind that value will vary based on variables like a specific brand or type of product used. To obtain the most accurate representation, it is highly recommended that you calculate it on your own with the actual amount and type of ingredient used.