Egg Free Chocolate Donuts
Delicious, soft, and fluffy egg free donuts covered with chocolate glaze and rainbow sprinkles!
As an Amazon Associate and member of other affiliate programs, I earn from qualifying purchases. Please read Disclosure Policy for more details.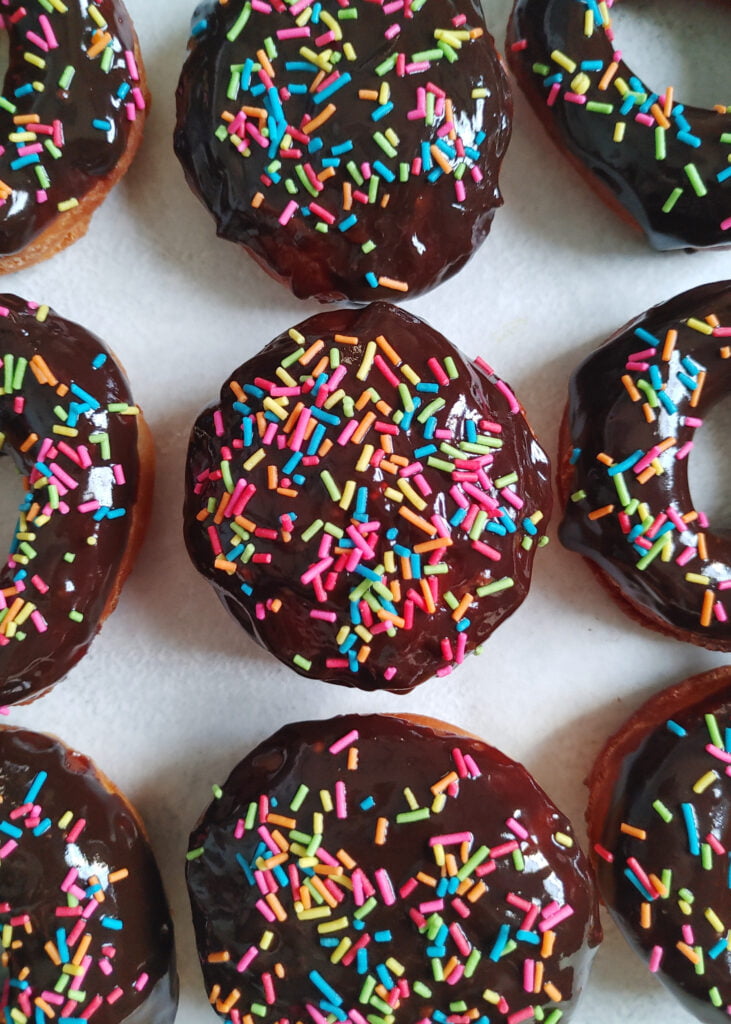 If you did make this recipe, do leave a rating and comment down below, we love hearing from you! Follow us on Instagram and Pinterest to get the latest updates. 💚
Egg Free Chocolate Donuts
Dough Resting Time:
2 hours
15 minutes
Total Time:
2 hours
55 minutes
These delicious egg-free donuts are fresh, soft, and rich in chocolate flavor.
Ingredients
For Donuts
1 cup milk (at room temperature)
4 Tbsp sugar
1 ½ tsp active dry yeast
3 cups all-purpose flour
½ tsp salt
¼ cup softened unsalted butter (if salted, skip adding salt; also keep the butter on the kitchen counter for some time to soften it)
cooking oil (neutral flavor)
For Chocolate Glaze
¼ cup unsalted butter
⅔ cup or 150 grams of dark chocolate
½ cup sugar
¼ cup milk
For Garnishing
Instructions
Add milk, sugar, and instant yeast to a large mixing bowl. Mix everything well.
Add all-purpose flour and salt to the wet ingredients. Combine everything using a spatula until the dough comes together. Then, knead the sticky dough in the bowl for a few seconds and cover the bowl with a lid and let the dough rest for about 30 minutes.
After 30 minutes, take out the dough, and dust a wooden chopping board or counter with flour. Place the dough on the board and flatten it.
Now add the butter and wrap it in the dough and knead it. The dough will become very sticky but keep kneading it for at least 10 minutes until the dough becomes smooth. Then, put it in a bowl, cover with a lid or cling wrap and let it rise for about an hour until it's doubled in size.
Once the dough has risen, punch to let the air out and transfer it to the wooden board or the counter. Knead again smoothly for a few seconds. Dust some flour if required.
Using a rolling pin roll the dough to a thick sheet (thicker than a roti). Then, cut the dough using a cookie cutter or a large lid for the outer circle and a small lid for the center. Repeat this process with the remaining dough. If you want, you can also take out the dough and roll them into small balls and flatten them a bit.
When they are done, put them on a large plate or a tray dusted with flour. Cover them with a cling wrap and let them rise for about 45 minutes.
Heat the oil in a deep pan over medium heat. Once the oil is hot, turn the flame to low and put the donuts in. Deep fry them until they rise, flip and cook until both sides turn golden brown. Take them out of the pan and drain on absorbent paper and set aside to cool.
To prepare the chocolate glaze, place the butter, dark chocolate, sugar, and milk in a small saucepan over medium heat, stirring continuously. Mix until the chocolate is completely melted (careful not to burn the chocolate).
Now, dip half the donuts in hot chocolate glaze and place them on a wire rack. Finally, garnish with rainbow sprinkles, and enjoy!
For later use, you can also store these donuts in an airtight container in the fridge for up to 3-4 days. Then, pop them in the oven or microwave for a few minutes to enjoy them warm.

Nutrition Information
Yield

6
Serving Size

1
Amount Per Serving
Calories

683
Total Fat

28g
Saturated Fat

15g
Trans Fat

0g
Unsaturated Fat

11g
Cholesterol

47mg
Sodium

228mg
Carbohydrates

98g
Fiber

4g
Sugar

40g
Protein

11g
The nutrition info calculated is just a rough estimate and is provided as a courtesy. Bear in mind that value will vary based on variables like a specific brand or type of product used. To obtain the most accurate representation, it is highly recommended that you calculate it on your own with the actual amount and type of ingredient used.