Thick & Creamy Vegan Cashew Sour Cream
This thick, tangy and creamy condiment is a perfect dairy-free sour cream substitute. It's made with four simple ingredients and is prepared in 5 minutes. You can use this sour cream in a variety of ways such as to garnish soups, as a salad dressing, or as a dip instead of mayonnaise.
As an Amazon Associate and member of other affiliate programs, I earn from qualifying purchases. Please read Disclosure Policy for more details.
I love how simple this thick & creamy vegan cashew sour cream is! It's a plant-based sour cream substitute that's soy-free and non-dairy. With only 4 ingredients and so simple to make, you're gonna love this tangy, creamy sauce.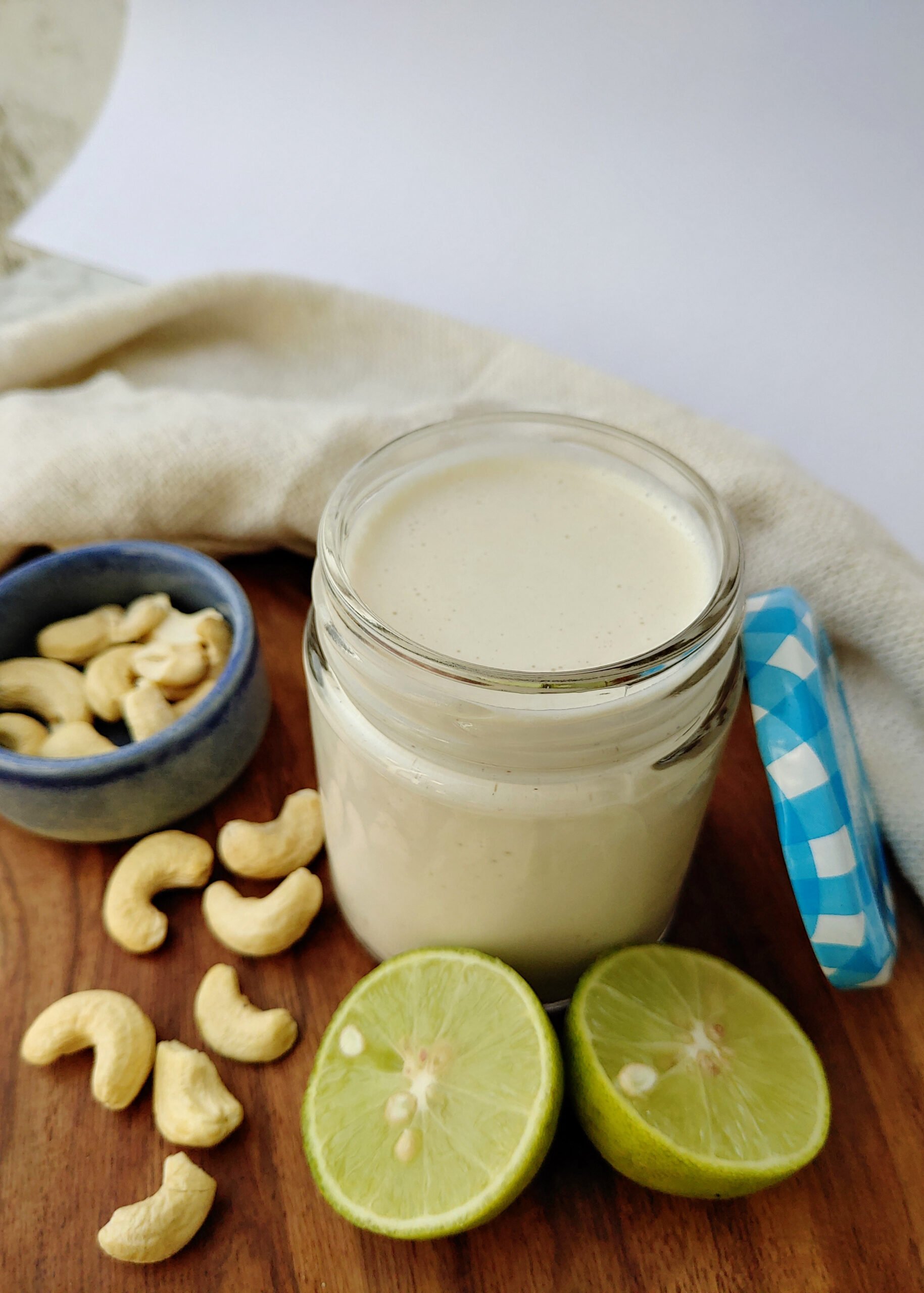 Soak The Cashews
It is recommended to soak the cashews before processing primarily for two reasons. One, soaking cashews improves nutrition and digestibility. Second, soaking cashews makes them easier to blend and as a result, gives a smooth and creamy consistency.
If you did make this recipe, do leave a rating and comment down below, we love hearing from you! Follow us on Instagram and Pinterest to get the latest updates. 💚
Thick & Creamy Vegan Cashew Sour Cream
Total Time:
8 hours
5 minutes
Thick and creamy vegan sour cashew cream is a perfect dairy-free sour cream substitute.
Ingredients
1 cup raw cashews
1/2 cup boiling water
1 Tbsp lemon juice
1/2 tsp salt
Instructions
Soak the cashews in boiling water for 1 hour or overnight for around 8 hours.

Add all the ingredients to a blender and blend until smooth. Use water as required.

Transfer to an airtight jar and store in the fridge for 4-5 days.

Nutrition Information
Yield

4
Serving Size

1
Amount Per Serving
Calories

180
Total Fat

14g
Saturated Fat

3g
Trans Fat

0g
Unsaturated Fat

10g
Cholesterol

0mg
Sodium

297mg
Carbohydrates

10g
Fiber

1g
Sugar

2g
Protein

6g
The nutrition info calculated is just a rough estimate and is provided as a courtesy. Bear in mind that value will vary based on variables like a specific brand or type of product used. To obtain the most accurate representation, it is highly recommended that you calculate it on your own with the actual amount and type of ingredient used.