Caramel Popcorn
Yummy popcorn with a thin and crispy coating of caramel sauce!
As an Amazon Associate and member of other affiliate programs, I earn from qualifying purchases. Please read Disclosure Policy for more details.
Caramel popcorn is one of the best treats to be enjoyed while watching a movie or as a dessert for gatherings. Just make an extra batch and store it in an airtight container to last for two to three weeks. Since it stays fresh for a few weeks, it makes an amazing food gift too.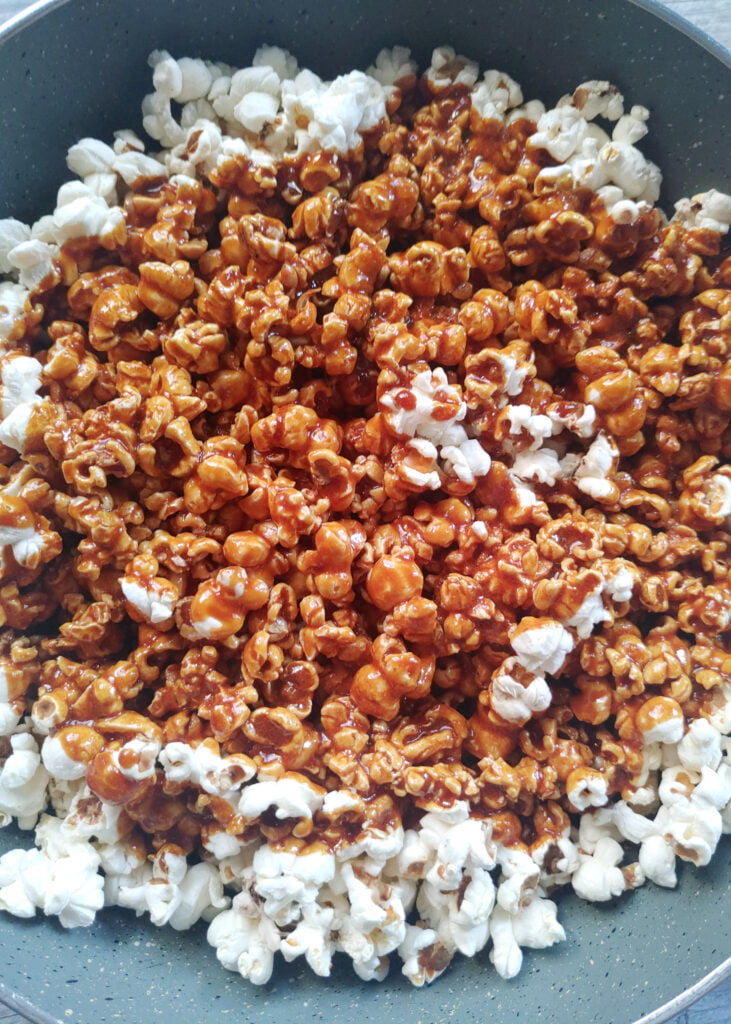 If you did make this recipe, do leave a rating and comment down below, we love hearing from you! Follow us on Instagram and Pinterest to get the latest updates. 💚
Caramel Popcorn
Yummy popcorn with a thin and crispy coating of caramel sauce!
Ingredients
For the Popcorn
1 Tbsp vegetable oil (neutral flavor)
⅔ cup popcorn kernels
½ tsp salt
For the Caramel Coating
½ cup sugar
¼ cup unsalted butter
1 tsp baking soda
Instructions
Heat oil in a large pan/pot over medium heat. Add the popcorn kernels and salt. Stir until they start popping, then turn the heat to low and cover the pot with a lid.
As the popcorn pops, shake the pot gently every few seconds.
Turn off the heat when the popping stops and set the pot aside to cool down.
Now place a saucepan over low heat, add sugar, and let it melt. Once it starts to melt, add butter and stir until the sugar and butter completely dissolve and the color of the mixture turns golden brown.
Be careful while handling the caramel sauce as it's very hot. So, do not be tempted to taste the caramel or stick your finger in the pan.
As the sugar and butter have dissolved, add the baking soda and stir.
Once the caramel foams, turn off the heat and immediately pour the sauce over the popcorn and quickly toss to evenly coat the popcorn.
Transfer the caramel-coated popcorn to a parchment-lined baking tray and spread evenly.
Let the popcorn cool completely on the baking tray. Then gently break into pieces and serve.

Nutrition Information
Yield

4
Serving Size

1
Amount Per Serving
Calories

333
Total Fat

15g
Saturated Fat

8g
Trans Fat

0g
Unsaturated Fat

7g
Cholesterol

31mg
Sodium

618mg
Carbohydrates

51g
Fiber

0g
Sugar

50g
Protein

0g
The nutrition info calculated is just a rough estimate and is provided as a courtesy. Bear in mind that value will vary based on variables like a specific brand or type of product used. To obtain the most accurate representation, it is highly recommended that you calculate it on your own with the actual amount and type of ingredient used.