5 – Ingredient Pomegranate Smoothie
Make this nutrient-packed and flavorful smoothie for breakfast or a snack! 

As an Amazon Associate and member of other affiliate programs, I earn from qualifying purchases. Please read Disclosure Policy for more details.
Are you looking for a healthy and refreshing smoothie to add to your daily routine? Look no further than this 5-Ingredient Pomegranate Smoothie! Not only is it easy to make, but it's also packed with antioxidants, fiber, and vitamins to give your body the nourishment it needs.
🍹 What You Will Need
The following ingredients make this smoothie so nutritious:
Pomegranate: Pomegranate is loaded with antioxidants, which help protect your body from free radicals that can cause cell damage. It's also a good source of fiber, vitamin C, and vitamin K.
Frozen Bananas and Papaya: Both bananas and papaya are rich sources of vitamins, minerals, and other nutrients, which can help regulate blood pressure, support heart health, improve digestion, and boost the immune system. Plus frozen fruits give a nice creamy texture to the smoothie.
Milk: Liquid base, high in calcium, which is important for strong bones and teeth. You can also use dairy-free milk.
Honey: Honey is a natural sweetener that adds a touch of sweetness to the smoothie without adding refined sugar. It's also loaded with antioxidants and has antibacterial properties.
🔪 How To Make Pomegranate Smoothie
Now that you know what all ingredients you need and why this smoothie is so good for you, let's get into the recipe!
Add all ingredients to a blender.
Blend until smooth.
Pour into a glass and enjoy!
See, it's that easy! This smoothie is perfect for breakfast, a midday snack, or a post-workout drink. It's also a great way to get your daily dose of fruits in a delicious and refreshing way.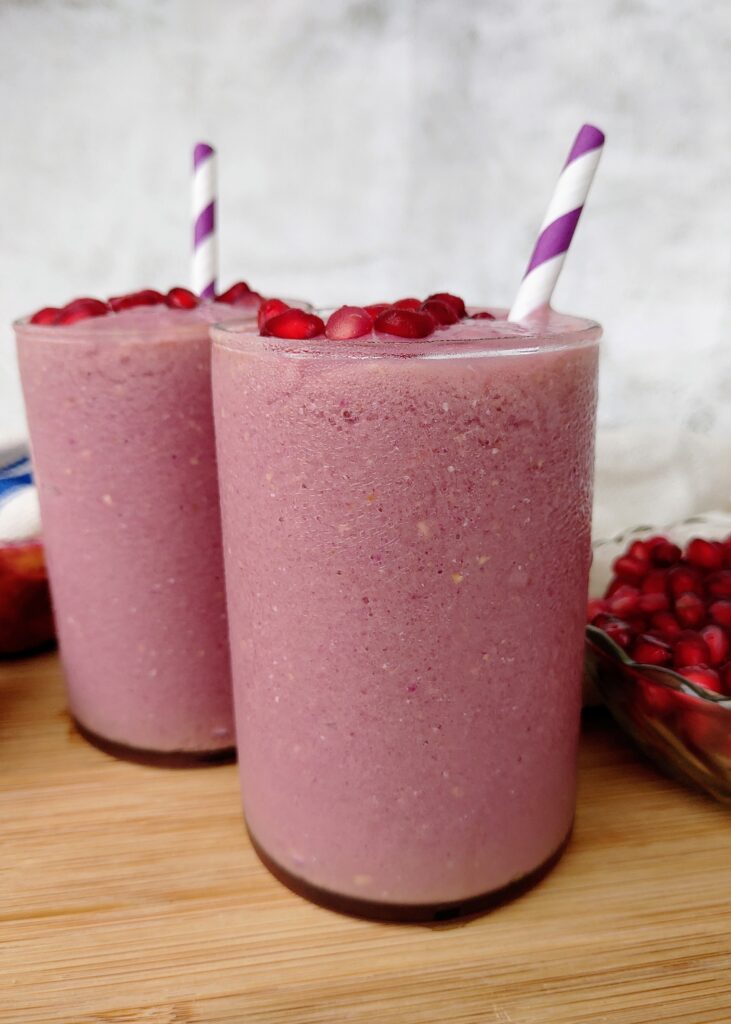 In conclusion, this 5-Ingredient Pomegranate Smoothie is a delicious and nutritious way to start your day or fuel your body after a workout. It's packed with antioxidants, fiber, and vitamins, and it's easy and affordable to make. Give it a try and see how delicious and refreshing healthy eating can be!
🥤 More Smoothie Recipes
If you did make this recipe, do leave a rating and comment down below, we love hearing from you! Follow us on Instagram and Pinterest to get the latest updates. 💚
📖 Recipe
5 - Ingredient Pomegranate Smoothie
Make this nutrient-packed and flavorful smoothie for breakfast or a snack! 
Ingredients
2 cups pomegranate
1 cup papaya, frozen
1 medium banana, frozen
1 Tbsp honey
½ cup milk
Instructions
Combine all ingredients in a blender and blend on high (2-3 minutes) until smooth.
Serve fresh, and enjoy!

Nutrition Information
Yield

3
Serving Size

1
Amount Per Serving
Calories

200
Total Fat

2g
Saturated Fat

1g
Trans Fat

0g
Unsaturated Fat

1g
Cholesterol

3mg
Sodium

28mg
Carbohydrates

45g
Fiber

7g
Sugar

33g
Protein

4g
The nutrition info calculated is just a rough estimate and is provided as a courtesy. Bear in mind that value will vary based on variables like a specific brand or type of product used. To obtain the most accurate representation, it is highly recommended that you calculate it on your own with the actual amount and type of ingredient used.