Healthy Vegan Peanut Chaat
Here's a super healthy, oil-free, quick and easy vegan snack recipe that takes hardly 10 minutes to make.
As an Amazon Associate and member of other affiliate programs, I earn from qualifying purchases. Please read Disclosure Policy for more details.
Peanuts are rich in protein, fat, and various healthy nutrients. There are many recipes that can be made using peanuts and one of the healthiest, most delicious, and easiest recipes is this vegan peanut chaat. This healthy peanut chaat is a popular Indian light snack or an appetizer, perfect for munching casually while entertaining or pairing along with meals or salads. It is a savory snack made from a variety of ingredients, including roasted peanuts, spices, and vegetables. You can also add mint and tamarind chutneys to make this chaat tangier.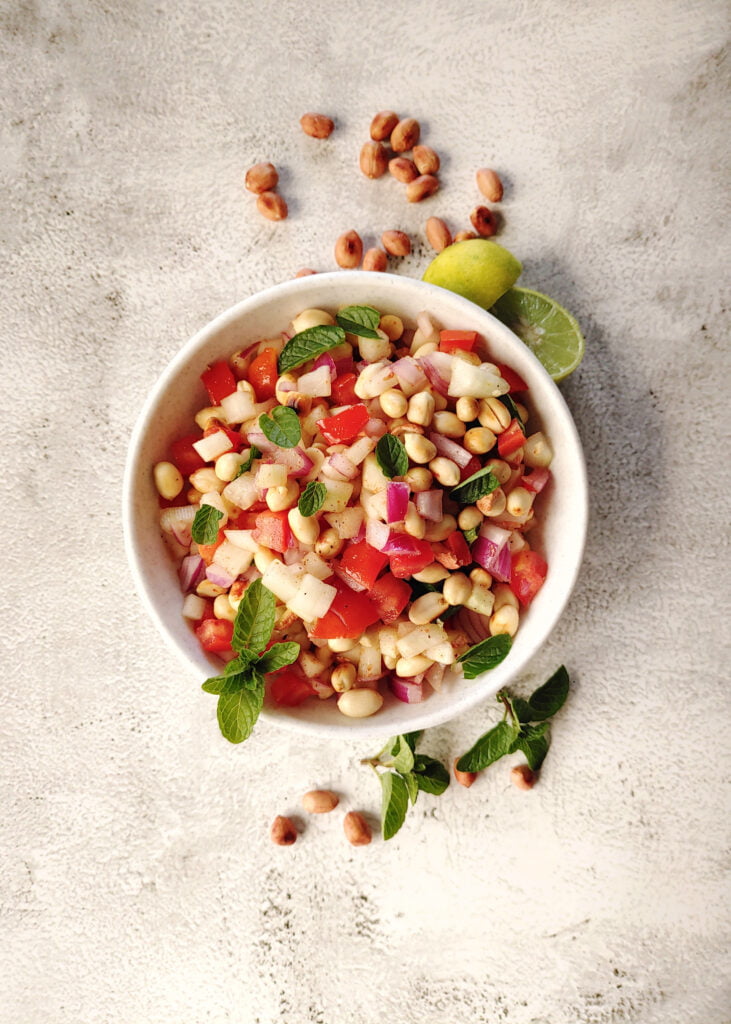 🥜 What You Will Need
Dry roasted peanuts (roast raw peanuts or use readily available salted peanuts, can substitute roasted with boiled peanuts)
Onion
Tomato
Cucumber
It is important to remove the seeds from the tomato and cucumber and not to add the juicy seed part as it will make the peanuts watery.
Lemon juice
Fresh mint leaves (you can also use fresh coriander leaves)
Black Salt
Regular spices – red chilli powder, black pepper powder
Chaat Masala – gives a tangy flavor
🔪 How to Make this Peanut Chaat
Let's learn step-by-step how to make this peanut chaat at home.
Gather all the ingredients
The first and foremost step is to have all the necessary ingredients in one place for easier preparation.
Dry roast the peanuts
Next, dry roast the peanuts on low-medium heat until they turn light brown. Once they are roasted, transfer them to a bowl or a plate and allow them to completely cool down. Then rub them between your hands to remove the skin.
Prepare the vegetables
While the peanuts are kept to cool down, chop all the vegetables, transfer them to a large mixing bowl, and set aside.
Assemble the chaat
Finally, add the peanuts and spices to the chopped vegetables in the bowl. Mix well, squeeze lemon juice, and serve.
This chaat is best served immediately while all the flavors and vegetables taste fresh.
🍽️ More Healthy Snack Recipes
Crunchy Masala Roasted Chickpeas
Potato Masala Veg Grilled Sandwich
Honey Chilli Potatoes (With Baked Fries)
Chilli Oil Glazed Oven Roasted Potatoes
Easy to Make Poha Recipe(Flattened Rice)
If you did make this recipe, do leave a rating and comment down below, we love hearing from you! Follow us on Instagram and Pinterest to get the latest updates. 💚
📖 Recipe
Healthy Vegan Peanut Chaat
Peanut chaat made with roasted peanuts, fresh veggies, and spices.
Ingredients
1 cup raw peanuts
1 medium cucumber, deseeded and chopped
1 medium onion, finely chopped
1 medium tomato, deseeded and chopped
1 small green chilli, finely chopped
2 Tbsp lemon juice
4-5 mint sprigs, stems removed and chopped
½ tsp black salt
½ tsp chaat masala
¼ tsp red chilli powder
¼ tsp black pepper powder
Instructions
Dry roast the raw peanuts in a frying pan on medium heat for 5 minutes or until they turn slightly brown.

Take the pan off the heat, transfer the roasted peanuts to a bowl, and let them cool completely. As the peanuts cool, they'll become crispy and crunchy. Then rub the peanuts between your hands to take the skin off.

Take a large mixing bowl, add chopped vegetables, roasted peanuts, salt, red chilli powder, chaat masala, black pepper powder, lemon juice, green chilli, and mint leaves, and mix well.

Serve immediately, and enjoy!

Nutrition Information
Yield

4
Serving Size

1
Amount Per Serving
Calories

243
Total Fat

18g
Saturated Fat

2g
Trans Fat

0g
Unsaturated Fat

15g
Cholesterol

0mg
Sodium

312mg
Carbohydrates

14g
Fiber

4g
Sugar

6g
Protein

10g
The nutrition info calculated is just a rough estimate and is provided as a courtesy. Bear in mind that value will vary based on variables like a specific brand or type of product used. To obtain the most accurate representation, it is highly recommended that you calculate it on your own with the actual amount and type of ingredient used.