Mango Peach Mini Galettes (Egg Free)
Make these delicious, flaky, juicy, and tender fruit-filled mini galettes at home in simple steps!
As an Amazon Associate and member of other affiliate programs, I earn from qualifying purchases. Please read Disclosure Policy for more details.
These perfectly portioned mango peach mini galettes are the best treats for summer. They are easy to make and have customizable fruit fillings.
A galette is a French pastry similar to a tart or a pie. It's mainly sweet but can be made savory. It's essentially a pie-like pastry dough wrapped over a filling made from fruit, butter, and sugar. It's a free-form pie, i.e., no particular shape is required, just fill the dough with fruit mixture, gently fold the edges, and then bake in the oven.
If you did make this recipe, do leave a rating and comment down below, we love hearing from you! Follow us on Instagram and Pinterest to get the latest updates. 💚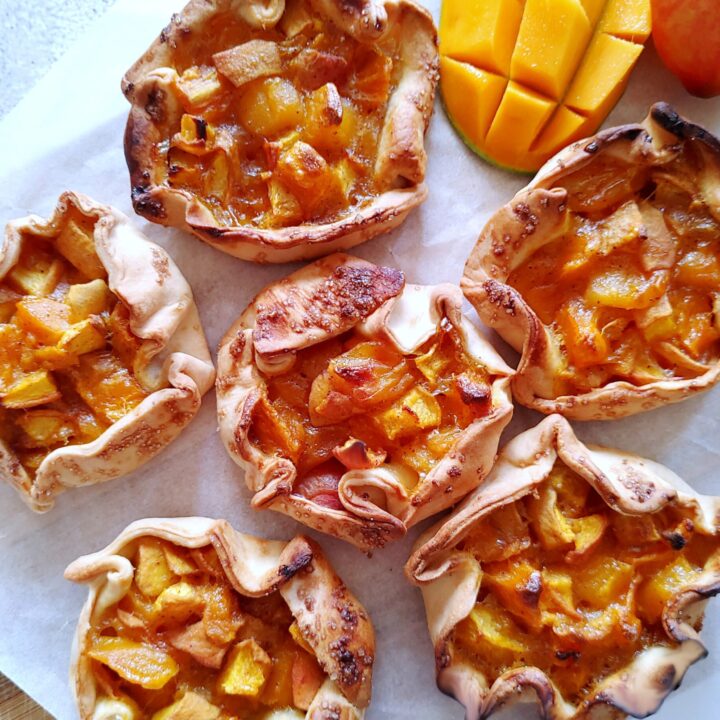 Mango Peach Mini Galettes (Egg Free)
Refrigeration Time:
3 hours
Total Time:
3 hours
50 minutes
Make these delicious, flaky, juicy, and tender fruit-filled mini galettes at home in simple steps!
Ingredients
For the flaky pie dough
3 cups all-purpose flour
¼ cup powdered sugar
1 tsp salt
½ cup butter
½ cup cold water
For mango peach filling
2 cups sliced mangoes
2 cups sliced peaches
1 tsp ground cinnamon
2 Tbsp cornstarch
1 tsp vanilla extract
A pinch of salt
½ cup powdered sugar
1 Tbsp milk
1 Tbsp brown sugar
Instructions
To make the pie crust, take a large bowl and add all-purpose flour, powdered sugar, salt, and soft butter (not melted). Combine everything well until the mixture resembles fine breadcrumbs. Now slowly add cold water and knead a semi-soft dough.

Let the dough chill in the refrigerator for around 2 hours in an airtight container.

Meanwhile, prepare the fruit filling. Take a large mixing bowl, and add mangoes, peaches, ground cinnamon, cornstarch, vanilla extract, salt, and powdered sugar. Gently fold to coat the fruits. Set the bowl aside to allow the fruits to macerate.

After 1 hour remove the juice by pouring the fruit and juice into a fine mesh strainer.

Take the pie dough out of the refrigerator. On a lightly floured work surface, roll the dough into a large circle. Cut out pastry discs using a 6-inch cookie cutter. Or you can use a small plate and cut circles using a knife. Repeat this with the remaining dough. You'll get about 12-14 discs. Refrigerate them for 30 minutes.

Now arrange the pastry discs on a parchment-lined baking tray. Add about ¼ cup of fruit mixture into the center of each disc, leaving any excess juice in the bowl and also leaving the outer inch clear. Gently fold the edges over the filling leaving the center exposed. Chill in the refrigerator for 30 minutes to 1 hour. The galettes will lose shape if they're not chilled.

When ready to bake, brush the edges of each galette with milk and sprinkle some brown sugar. They help with browning the crust.
Bake in a preheated oven at 200°C (392°F) for 30 minutes or until the edges are lightly golden.

Remove from the oven and cool on the baking tray for a few minutes before serving warm. Serve plain or with ice cream.

Store the leftover mini galettes in an airtight container in the refrigerator for up to 3-4 days.

Nutrition Information
Yield

5
Serving Size

1
Amount Per Serving
Calories

589
Total Fat

20g
Saturated Fat

12g
Trans Fat

1g
Unsaturated Fat

6g
Cholesterol

49mg
Sodium

643mg
Carbohydrates

95g
Fiber

4g
Sugar

33g
Protein

9g
The nutrition info calculated is just a rough estimate and is provided as a courtesy. Bear in mind that value will vary based on variables like a specific brand or type of product used. To obtain the most accurate representation, it is highly recommended that you calculate it on your own with the actual amount and type of ingredient used.