Healthy Egg Free Oat Muffins
These oat muffins are wholesome, delicious and the perfect nutritious breakfast. They are so good that you won't even believe they are healthy!
As an Amazon Associate and member of other affiliate programs, I earn from qualifying purchases. Please read Disclosure Policy for more details.
If oatmeal is pretty much your go-to breakfast most mornings, then let me introduce you to these make-ahead healthy egg free oat muffins for breakfasts. Once you make these, the entire batch will be over fast. Since they are made in individual cups, they're perfectly portioned and great as a grab-and-go breakfast or snack option.
💚 Why You Will Love This Recipe
You will love these egg free oat muffins because they are:
Healthy
Easy to make
Super delicious
Great way to hide oats in cups and have a wholesome breakfast
Soft and Moist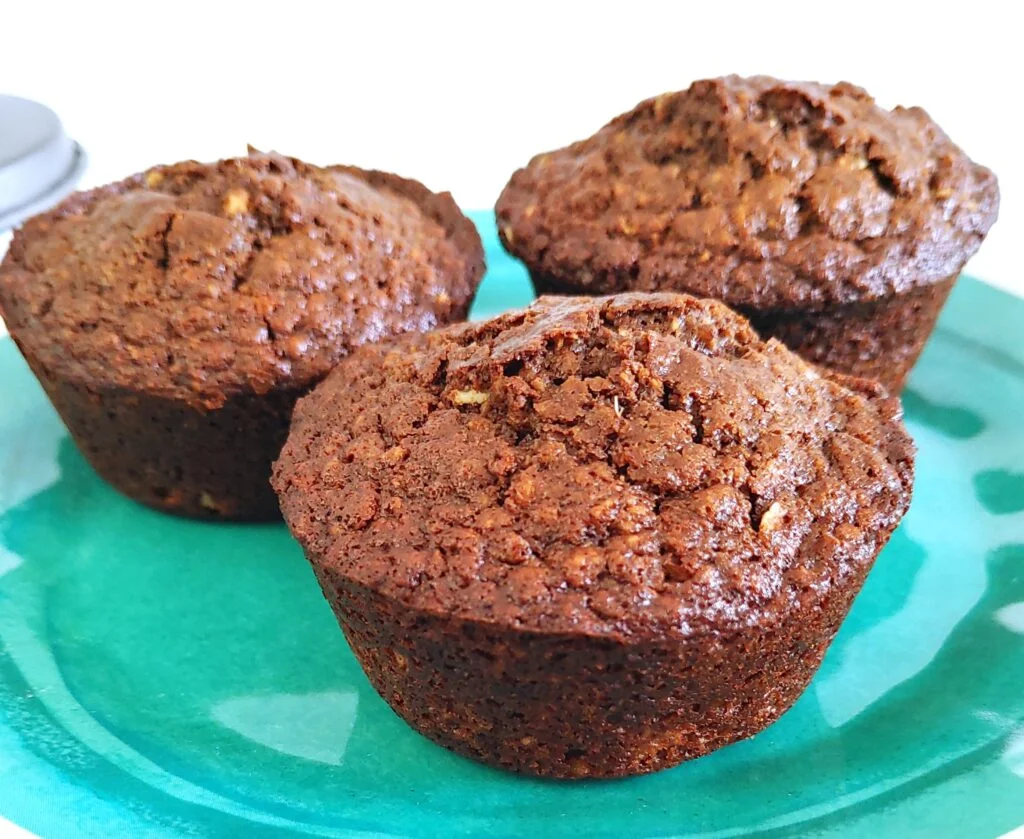 🥧 What You Will Need
Old Fashioned Rolled Oats – Key gluten-free ingredient for the recipe. Quaker Oats are always my go-to rolled oats for any oat recipe, best for even oatmeal as they absorb more water and cook faster than steel-cut oats.
Whole Wheat Flour – Adds more whole grains to your diet and gives a lightly baked muffin. You can skip this and replace it with an equal amount of oats.
Ground Almonds – Gives light, delicate, and nutty-flavored muffins.
Yogurt and Milk – Substitute for eggs, help keep muffins spongy, moist, and soft.
Baking Powder and Baking Soda – Both leavening agents are used for some rise and fluffiness.
Cocoa Powder – Gives a dark rich chocolatey flavor. You can also add some chocolate chips or dark chocolate.
Salt– Brings out the sweetness and balances the flavor.
Brown Sugar – I use brown sugar in almost all my baking because it's naturally moist and results in moister and softer muffins and cakes. You can also substitute brown sugar with applesauce.
Cinnamon Powder – To get a warm cinnamon spice flavor.
Coffee Powder – Enhances and intensifies the chocolate flavor.
Coconut oil – Adds moisture and makes muffins nice and flaky. Use unrefined coconut oil as it's minimally processed and has a mild scent and flavor. You can also use melted butter instead of coconut oil.
Additional mix-ins – Add up to one cup of fruit (banana, apple) to the batter to customize it, if you'd like.
☘️ How To Make These Muffins Vegan
You can easily turn these eggless or egg free oat muffins vegan by swapping a few ingredients.
1. Flax Egg
Instead of yogurt, use a flaxseed meal. This helps to hold the muffins together. All you have to do for this recipe is to mix 1 Tbsp of ground flaxseed with 3 Tbsp of water, then let the mixture rest for around 15 minutes, until it has a gel-like consistency.
2. Dairy-Free Milk
Use any dairy-free milk you would like such as oat milk, almond milk, or soy milk.
3. Coconut Oil
Adds moisture to the muffins and is a perfect substitute for butter.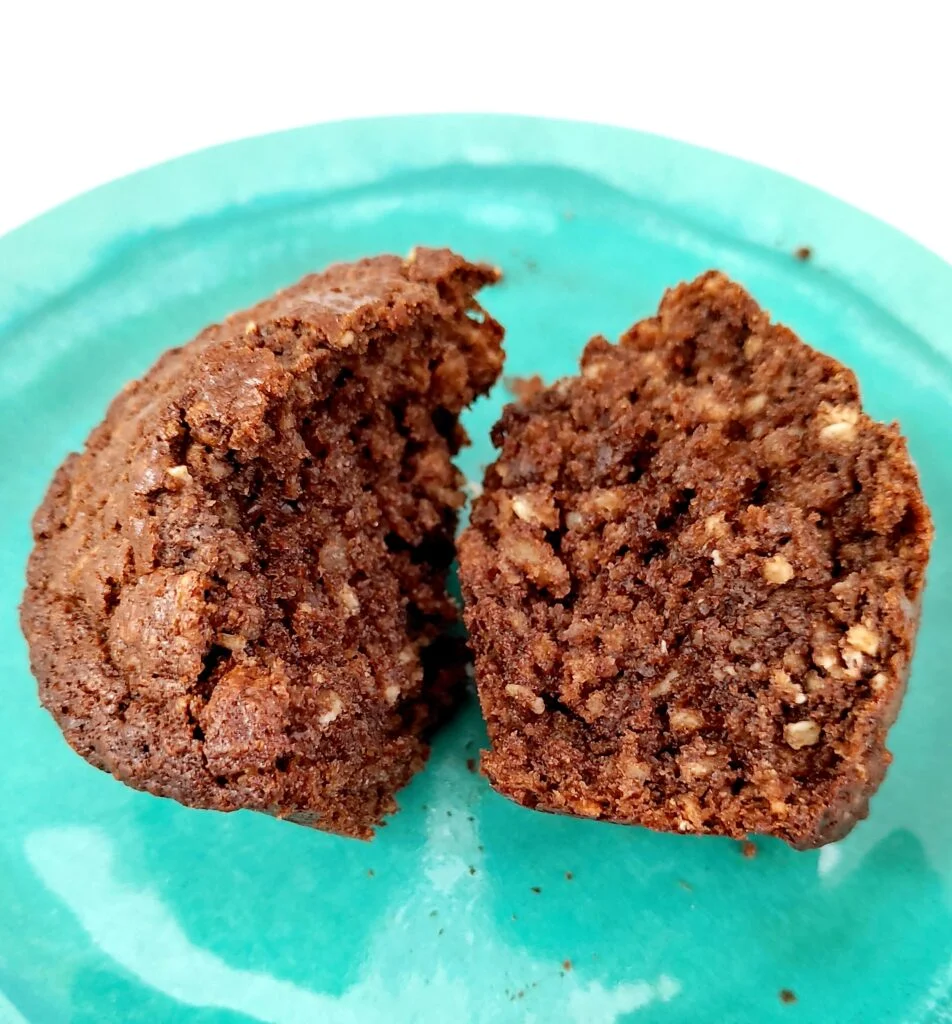 🍽️ More Recipes With Oats
If you did make this recipe, do leave a rating and comment down below, we love hearing from you! Follow us on Instagram and Pinterest to get the latest updates. 💚
📖 Recipe
Healthy Egg Free Oat Muffins
A healthy yet delicious grab-and-go breakfast treat made with oats, whole wheat, and almonds.
Ingredients
1.5 cups rolled oats
½ cup whole wheat flour
½ cup ground almonds
1 cup brown sugar
½ cup yogurt
1.5 cups milk (at room temperature)
2-3 Tbsp cocoa powder
2 tsp baking powder
½ tsp baking soda
½ tsp salt
1 tsp cinnamon powder
2 tsp coffee powder
¼ cup melted coconut oil
Instructions
Preheat the oven to 180°C or 356°F for 10 mins.

In a mixing bowl, add oats and ground almonds, and sift the rest of the dry ingredients (whole wheat flour, cocoa powder, baking powder, baking soda, salt, cinnamon powder, and coffee powder).

In a separate bowl, add yogurt, brown sugar, and coconut oil and whisk them until well combined.

Add the dry mixture to the wet yogurt sugar mixture, then slowly add milk and gently fold without overmixing.

Grease the muffin tray with coconut oil. Scoop into the muffin molds and fill each mold up to 3/4th. Sprinkle some chopped almonds and oats (optional).

Bake at 180°C or 356°F for 25-30 mins. (Tops should spring back when lightly pressed and/or a toothpick inserted in the center of a muffin should come out clean).

Once baked, let them cool in the tray for 10 mins before transferring them onto a cooling rack.

Nutrition Information
Yield

4
Serving Size

1
Amount Per Serving
Calories

663
Total Fat

28g
Saturated Fat

14g
Trans Fat

0g
Unsaturated Fat

11g
Cholesterol

9mg
Sodium

856mg
Carbohydrates

92g
Fiber

8g
Sugar

52g
Protein

16g
The nutrition info calculated is just a rough estimate and is provided as a courtesy. Bear in mind that value will vary based on variables like a specific brand or type of product used. To obtain the most accurate representation, it is highly recommended that you calculate it on your own with the actual amount and type of ingredient used.