Healthy Oat Banana Pancakes (Egg Free)
These oat banana pancakes are delicious, gluten-free, and a healthier alternative to traditional pancakes.
As an Amazon Associate and member of other affiliate programs, I earn from qualifying purchases. Please read Disclosure Policy for more details.
If you are looking for a healthy and quick breakfast, then these oat banana pancakes are a great choice. They are easy to make, nutritious, and perfect for those who are gluten-free or simply looking for a healthier alternative to traditional pancakes.
Simply blend all the ingredients, cook, and serve hot with your favorite toppings!
💚 Why You Will Love This Recipe
This simple and healthy banana oats pancakes recipe is a nutritious breakfast option that is gluten-free and can be made vegan. The recipe consists of a combination of oats, bananas, milk, coconut oil, and spices, which provides a good balance of carbohydrates, protein, and healthy fats.
Oats are a good source of soluble fiber, which can help to reduce cholesterol levels and improve digestive health. Bananas are a great source of potassium and other essential vitamins and minerals.
Furthermore, the recipe uses honey as a sweetener for topping, making it a healthier alternative to traditional pancakes. This recipe is also quick and easy to make, making it a convenient breakfast option for busy mornings.
Overall, the simple and healthy banana oats pancakes recipe can be a tasty and nutritious breakfast option that is suitable for a variety of dietary needs. However, it is always important to consume it in moderation as part of a balanced diet.
🍌 What You Will Need
🍴 How To Make Oat Banana Pancakes
Add all the ingredients for pancakes to a blender.
2. Blend the ingredients until smooth.
3. Brush a heated pan with coconut oil, pour spoonfuls of batter, and cook until both sides are golden brown.
4. Transfer the pancakes to a plate and stack them. Finally, serve them with toppings and enjoy!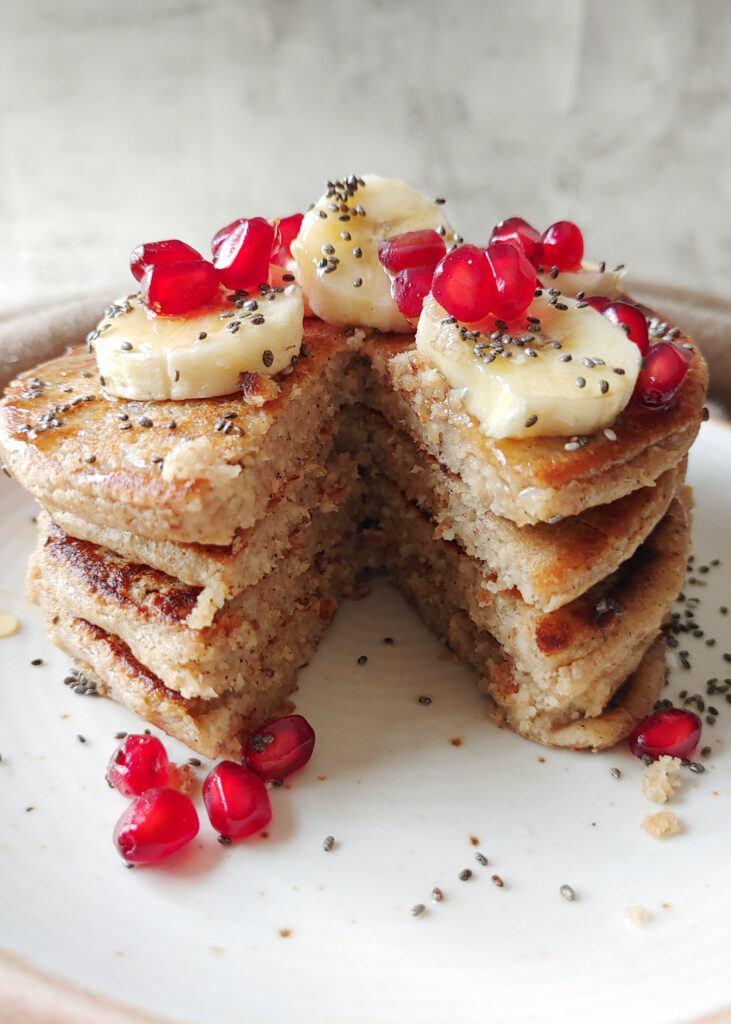 🌾 More Recipes With Oats
No Bake Chocolate Chip Energy Bites
If you did make this recipe, do leave a rating and comment down below, we love hearing from you! Follow us on Instagram and Pinterest to get the latest updates. 💚
📖 Recipe
Healthy Oat Banana Pancakes (Egg Free)
Simple and healthy banana oats pancakes with no added sugar, packed with the goodness of oats along with bananas, seeds, and seasonal fruits.
Ingredients
Toppings
Honey
Pomegranate
Banana Coins
Instructions
Add all the ingredients to a blender (except coconut oil) and blend until smooth.

Preheat a pan (preferably non-stick) over low-medium flame and add 1 tsp coconut oil.

Once the pan is hot, pour about two large spoonfuls of batter. Drizzle some coconut oil on the top and cook for 2-4 minutes or until pancakes slightly puff up and you see a few bubbles on the top and along the edges.

Flip the pancakes and cook until the other sides turn golden brown. Add a bit more oil, if required.

Serve the pancakes hot with desired toppings, and enjoy!

Nutrition Information
Yield

3
Serving Size

1
Amount Per Serving
Calories

477
Total Fat

12g
Saturated Fat

6g
Trans Fat

0g
Unsaturated Fat

5g
Cholesterol

7mg
Sodium

302mg
Carbohydrates

85g
Fiber

13g
Sugar

38g
Protein

12g
The nutrition info calculated is just a rough estimate and is provided as a courtesy. Bear in mind that value will vary based on variables like a specific brand or type of product used. To obtain the most accurate representation, it is highly recommended that you calculate it on your own with the actual amount and type of ingredient used.