Spring Roll Dipping Sauce (Quick & Easy)
This easy-to-make, delicious, sweet, and spicy spring roll dipping sauce is the perfect accompaniment to enhance the flavors of crispy and savory spring rolls.
As an Amazon Associate and member of other affiliate programs, I earn from qualifying purchases. Please read Disclosure Policy for more details.
When it comes to enjoying spring rolls, one essential element that elevates their flavors and adds an explosion of taste is the dipping sauce. Spring roll dipping sauce is a versatile condiment that complements the crispy and savory rolls, adding a burst of flavor and moisture to each bite. This sauce is a combination of three elements – sweetness, spiciness, and tanginess.
🥫 What You Will Need
You just need two store-bought ingredients and hot water to whisk together this yummy sauce.
Schezwan Chutney
Sweet Chilli Garlic Sauce
Hot Water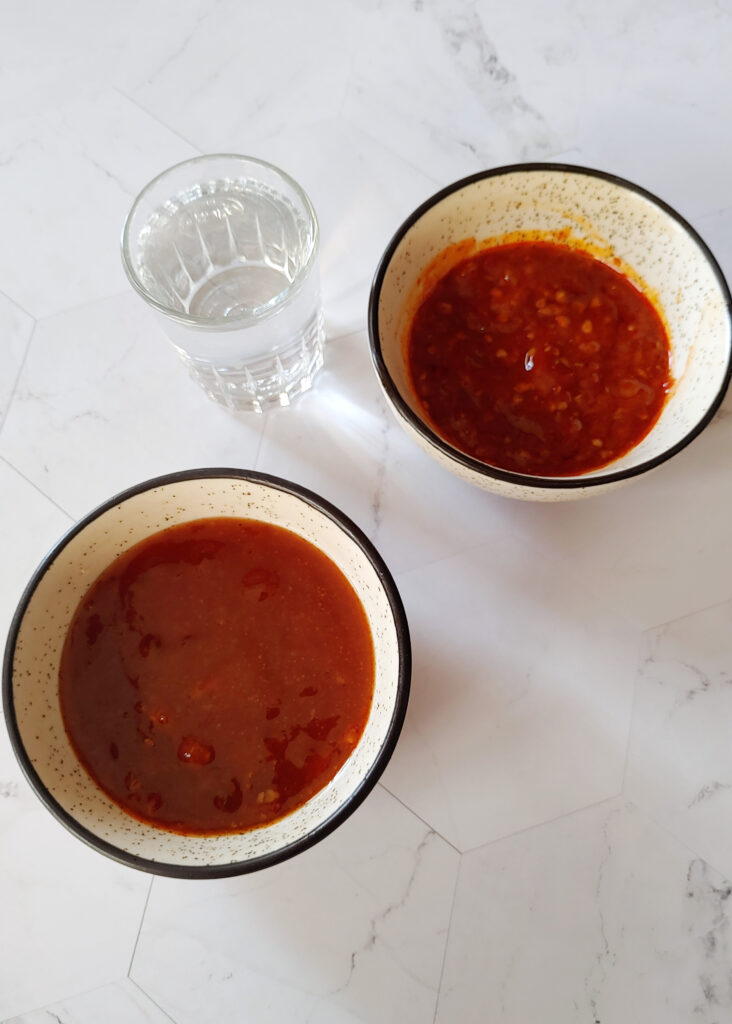 🥣 How to Make This Sauce
In a bowl, whisk together schezwan chutney, sweet chilli garlic sauce, and hot water.
Stir well until all the ingredients are thoroughly mixed.
✔️ Some Helpful Tips
To make the most out of your spring roll dipping sauce experience, here are a few tips to keep in mind:
Balance the flavors: Aim for a balance of sweet, salty, tangy, and spicy flavors in your dipping sauce to create a harmonious combination with the rolls.
Experiment with combinations: Don't be afraid to mix and match different dipping sauces to discover unique and exciting flavor combinations.
Adjust spiciness level: If you prefer a milder or spicier dipping sauce, feel free to adjust the amount of spice (e.g., increase the amount of schezwan sauce) to your liking.
Serve at the right temperature: Most dipping sauces taste best when served at room temperature, allowing the flavors to develop fully.
❔ Frequently Asked Questions
Can I use spring roll dipping sauce for other dishes?
Absolutely! While spring roll dipping sauce is traditionally used for spring rolls, it can also be enjoyed with other dishes like dumplings, veggie wraps, or even as a salad dressing.
Can I make the sauce ahead of time?
It's a great idea to make it ahead of time, allowing the flavors to intensify.
Are dipping sauces gluten-free?
It depends on the ingredients used. Some sauces may contain soy sauce, which often contains gluten. However, you can opt for gluten-free soy sauce as a substitute.
🍵 More Sauces & Dressings to Try
Asian-Inspired Sesame Dressing
Oil – Free Pumpkin Seed Dressing
If you did make this recipe, do leave a rating and comment down below, we love hearing from you! Follow us on Instagram and Pinterest to get the latest updates. 💚
📖 Recipe
Spring Roll Dipping Sauce
This easy-to-make, delicious, sweet, and spicy dipping sauce is a must-have for your yummy spring rolls.
Instructions
Prepare the dipping sauce by combining schezwan chutney, sweet chilli garlic sauce, and hot water in a small bowl.
Serve the sauce with veg spring rolls, and enjoy!
Nutrition Information
Yield

4
Serving Size

1
Amount Per Serving
Calories

151
Total Fat

9g
Saturated Fat

3g
Trans Fat

0g
Unsaturated Fat

4g
Cholesterol

24mg
Sodium

578mg
Carbohydrates

8g
Fiber

1g
Sugar

2g
Protein

9g
The nutrition info calculated is just a rough estimate and is provided as a courtesy. Bear in mind that value will vary based on variables like a specific brand or type of product used. To obtain the most accurate representation, it is highly recommended that you calculate it on your own with the actual amount and type of ingredient used.