ABC Juice
ABC juice is a natural detox juice made by blending apples, beets, and carrots together. It is packed with essential vitamins and minerals and is a delicious addition to any healthy diet.
As an Amazon Associate and member of other affiliate programs, I earn from qualifying purchases. Please read Disclosure Policy for more details.
This Apple Beet Carrot (ABC) juice is a refreshing and healthy drink that is known to be a natural detox. Blending apples, beets, carrots, and other ingredients together results in a delicious and nutrient-rich drink that can help to cleanse and detoxify the body.
🍎 🥕 What You Will Need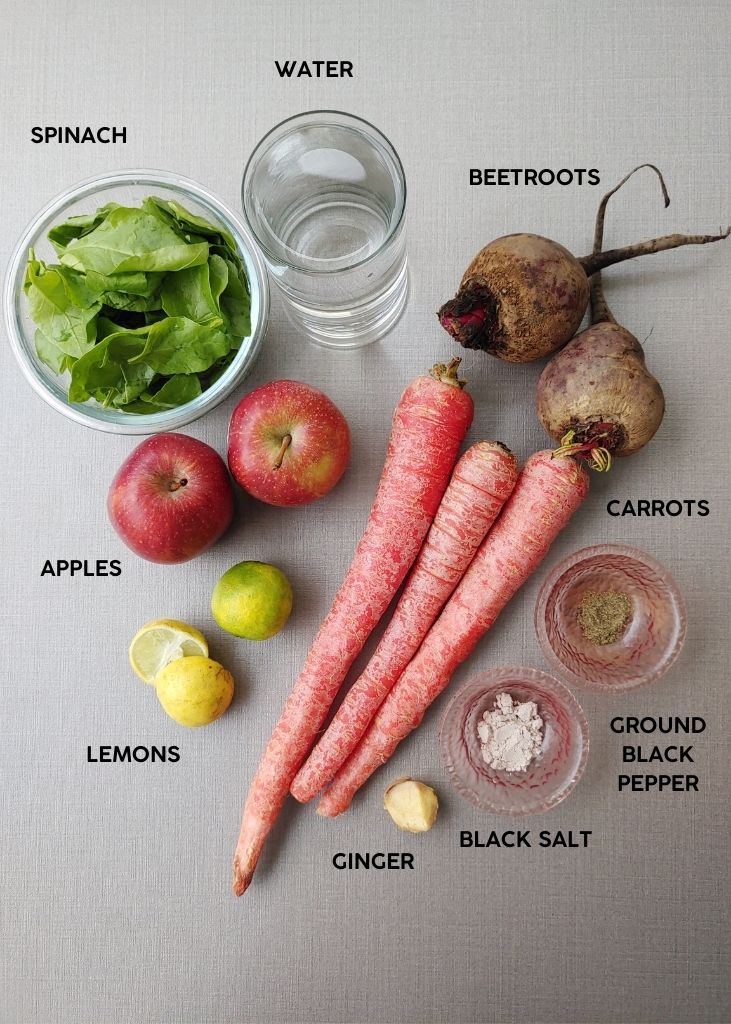 For making ABC juice, you will need the following ingredients:
1. Apples
Apples are rich in antioxidants, which can help to protect the body from free radicals that can cause damage to cells.
2. Beets
Beets are high in nitrates, which can help to lower blood pressure and improve circulation.
3. Carrots
Carrots are a great source of beta-carotene, which the body converts into vitamin A, and this vitamin is essential for healthy eyesight, skin, and immune system.
4. Spinach
Apart from the above key ingredients, you can add any leafy green vegetable such as spinach for more iron and nutrients.
5. Lemon and Ginger
Both lemon and ginger have anti-inflammatory and immunity-boosting properties. They are also good for digestion and weight loss.
6. Black Pepper and Black Salt
Black pepper adds mild spiciness to the juice. It has anti-inflammatory and antibacterial properties.
Black salt or kala namak is added to balance the taste, giving a subtle and umami flavor. It is low in sodium and helps control heartburn and bloating.
🍹 How To Make ABC Juice
To make the juice, first, wash and chop the fruits and vegetables. Then, along with the remaining ingredients add them to a juicer or blender and blend until smooth.
Then strain the juice through a fine mesh sieve or cheesecloth to remove any pulp.
Once you have the juice ready, it's best to drink fresh. You can also store it in an airtight bottle or jar in the fridge for up to 24 hours, but the longer it sits, the more nutrients it loses.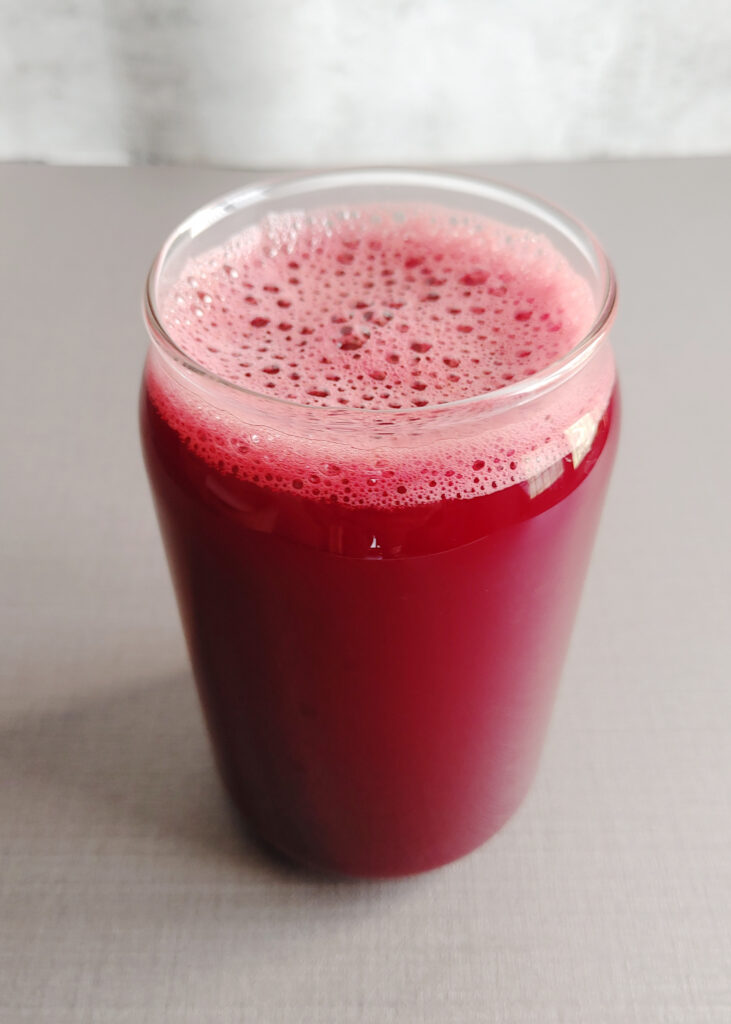 You can also experiment with different ratios of apples, beets, and carrots to find the perfect balance for your taste buds.
To reap all the health benefits of ABC juice, it is recommended to consume it on an empty stomach in the morning.
✔️ Benefits Of ABC Juice
ABC juice is rich in several nutrients such as manganese, zinc, Vitamins A, and C, and more, making it an excellent source to achieve optimal health.
Let's look into more health benefits of ABC juice.
1. Good for the immune system
The essential nutrients and antioxidants in ABC juice help in strengthening immunity by boosting the production of white blood cells.
2. Rejuvenates the skin
The goodness of vitamins such as Vitamin A, C, and E in the juice helps to get rid of toxins, acne, and blemishes. This in turn helps in restoring the natural complexion and gives a great glow.
3. Strengthens the hair
The ABC juice is also rich in iron, resulting in shiny, stronger, and healthier hair.
4. Helps in weight loss
This juice aids in weight loss by making you feel full for a few hours due to its low-calorie and high-fiber properties.
5. Increases energy and is good for gut health
Fiber and phytonutrients in the juice will help cleanse the body, and increase the production of red blood cells, thus increasing hemoglobin, and making you feel less fatigue.
Drinking a glass of this miracle juice regularly will also improve bowel movement and aid in digestion.
Although ABC juice is an excellent drink to rejuvenate your entire body, overconsumption of it can lead to nausea or other digestive issues. Therefore, consuming it in moderation and noting the ill effects may help minimize the risk and is the key to reaping all the health benefits of the juice.
🥤 More Juice Recipes To Try
Immune Booster Carrot Orange Juice
Watermelon Mint Cooler (No Added Sugar!)
If you did make this recipe, do leave a rating and comment down below, we love hearing from you! Follow us on Instagram and Pinterest to get the latest updates. 💚
📖 Recipe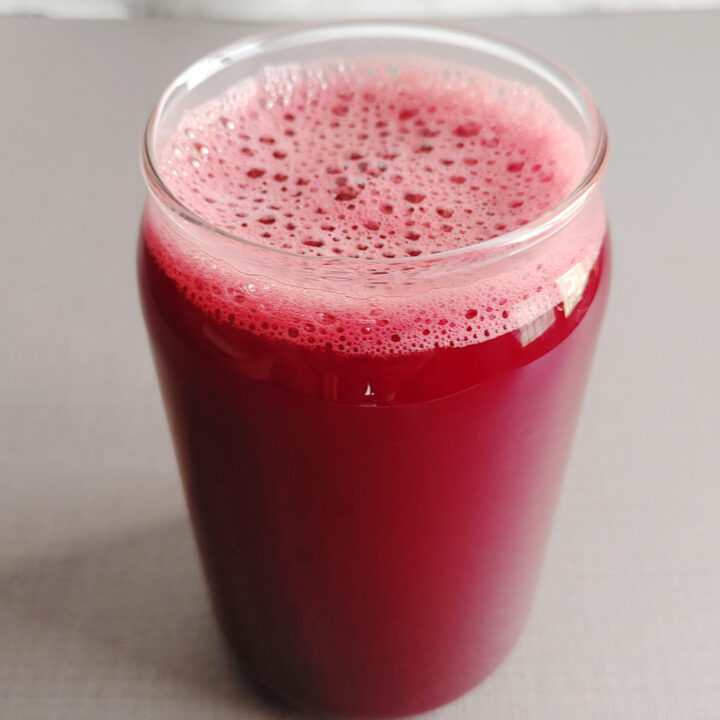 ABC Juice
This nutritious drink is rich in antioxidants, vitamins, and minerals, making it a refreshing and healthy beverage option.
Ingredients
2 medium apples, cored and quartered
2 medium beetroots, peeled and quartered
3 medium carrots, peeled and diced
2 cups spinach
2 Tbsp fresh lemon juice
1 cm ginger chunk
¼ tsp ground black pepper
¼ tsp black salt
4 cups water
Instructions
Add all the ingredients to a juicer and blend until smooth.
Strain the juice through a fine mesh sieve or cheesecloth to remove the pulp.
Pour the juice into glasses and drink it fresh.
Nutrition Information
Yield

3
Serving Size

1
Amount Per Serving
Calories

125
Total Fat

1g
Saturated Fat

0g
Trans Fat

0g
Unsaturated Fat

0g
Cholesterol

0mg
Sodium

344mg
Carbohydrates

29g
Fiber

8g
Sugar

18g
Protein

5g
The nutrition info calculated is just a rough estimate and is provided as a courtesy. Bear in mind that value will vary based on variables like a specific brand or type of product used. To obtain the most accurate representation, it is highly recommended that you calculate it on your own with the actual amount and type of ingredient used.