How to Make Oil-Free Caramelized Onions?
These oil-free caramelized onions are sweet, savory and easy to make. They are so versatile that once you add them to your salads and meals, they will bring your recipes to a whole new level and they are a whole lot healthier.
As an Amazon Associate and member of other affiliate programs, I earn from qualifying purchases. Please read Disclosure Policy for more details.
Caramelized onions WITHOUT THE OIL? I know it comes as a surprise as we are used to cooking pretty much everything in oil. But it's possible to do oil-free cooking and still achieve that delicious flavor!
You just need 1 pan and 3 ingredients to make these oil-free caramelized onions. Let's see how it's done!
But let's first understand what is caramelization.
Caramelization is a classic cooking technique for developing flavor in fruits, vegetables, and baked goods. As defined in Science of Cooking, "Caramelization is the oxidation of sugar, a process used extensively in cooking for the resulting nutty flavor and brown color".
Usually, oil or butter is used to start the browning process but it's not essential. As you read further, you will understand how it's still possible to achieve that deep and rich flavor without the oil.
The Secrets to Oil-Free Caramelized Onions
Careful while adding water
Add little water at a time to release the caramel-colored bits of goodness on the bottom of the pan.
Keep the pan covered
This helps onions cook more evenly and brown.
Have a little patience
This process takes around one hour to achieve a deep, golden-brown caramelization. If you only want translucent onions, sauté on a lower heat setting and stop the process before the onions turn brown.
So, following these easy steps will give you a juicy, tender onion garnishing that makes taste everything better! You can use this method of caramelization to saute' garlic and ginger.
How to Use These Oil-Free Caramelized Onions in Your Recipes
Use them in soups.
Add them to salads – they work well in guava salad.
Pile them on sandwiches to make a trendy café-style lunch.
Pop them into a veggie burger – they're so much better than raw onions.
Add them to a pizza – replace the normal onion toppings with these.
Put together oil-free dips to go along with chips and crackers.
Use them in your favorite main course recipes – their tender, sweet and savory taste will turn any recipe into a gourmet meal.
If you did make this recipe, do leave a rating and comment down below, we love hearing from you! Follow us on Instagram and Pinterest to get the latest updates. 💚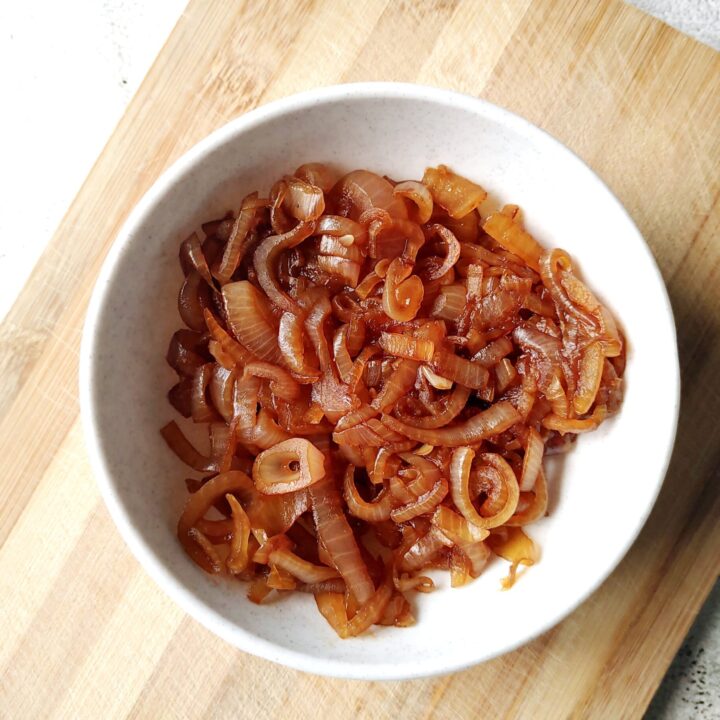 Oil-Free Caramelized Onions
Total Time:
1 hour
5 minutes
Sweet and savory caramelized onions made without oil! Just 1 pan and 3 ingredients required!
Ingredients
2 medium onions
4-5 Tbsp water
1/4 tsp salt
Instructions
Slice the onions into thin rings.

Heat a stainless steel pan (should be large enough to easily accommodate the onions as they are going to shrink down significantly when caramelized).

Add the sliced onions and 2-3 Tbsp water. Stir and then cover.
As they cook, they will first get soft, then juicy, and slowly begin to brown or caramelize.

Add a few tablespoons of water to deglaze the pan and keep the onions from burning. Stir occasionally and enjoy the process. Cook the onions for 60 minutes until you get a dark brown color.
Near the end of cooking, add salt (to draw the moisture) and stir to enhance the caramelized flavor.

Use immediately on salads, sandwiches, wraps, meals, and more! Store leftovers in an airtight container in the refrigerator for up to 4 days.

Nutrition Information
Yield

4
Serving Size

1
Amount Per Serving
Calories

21
Total Fat

0g
Saturated Fat

0g
Trans Fat

0g
Unsaturated Fat

0g
Cholesterol

0mg
Sodium

150mg
Carbohydrates

5g
Fiber

1g
Sugar

2g
Protein

1g
The nutrition info calculated is just a rough estimate and is provided as a courtesy. Bear in mind that value will vary based on variables like a specific brand or type of product used. To obtain the most accurate representation, it is highly recommended that you calculate it on your own with the actual amount and type of ingredient used.