How to Make a Flax Egg
Learn how to make a flax egg with only two simple ingredients to replace eggs in your vegan and vegetarian baking.
As an Amazon Associate and member of other affiliate programs, I earn from qualifying purchases. Please read Disclosure Policy for more details.
If you are looking for an egg substitute for your baking, then make these flax eggs. Flax eggs are not only vegan-friendly, but they're also gluten-free and loaded with nutrients. Flaxseed, being the main ingredient in flax eggs is rich in protein, soluble fiber, and omega-3 fatty acids. It may help maintain a healthy weight, lowers cholesterol, and provides numerous health benefits. In this article, we'll learn how to make a flax egg and how to use it to enhance the taste and texture of almost any recipe.
📃 What is a Flax Egg
A flax egg is a gelatinous mixture of flaxseed and water. It works as a binding agent in recipes and is often used in vegan baking and vegetarian baking without eggs.
Flax eggs are entirely plant-based, nut-free, dairy-free, and gluten-free, making them an excellent alternative for those following egg-free diets.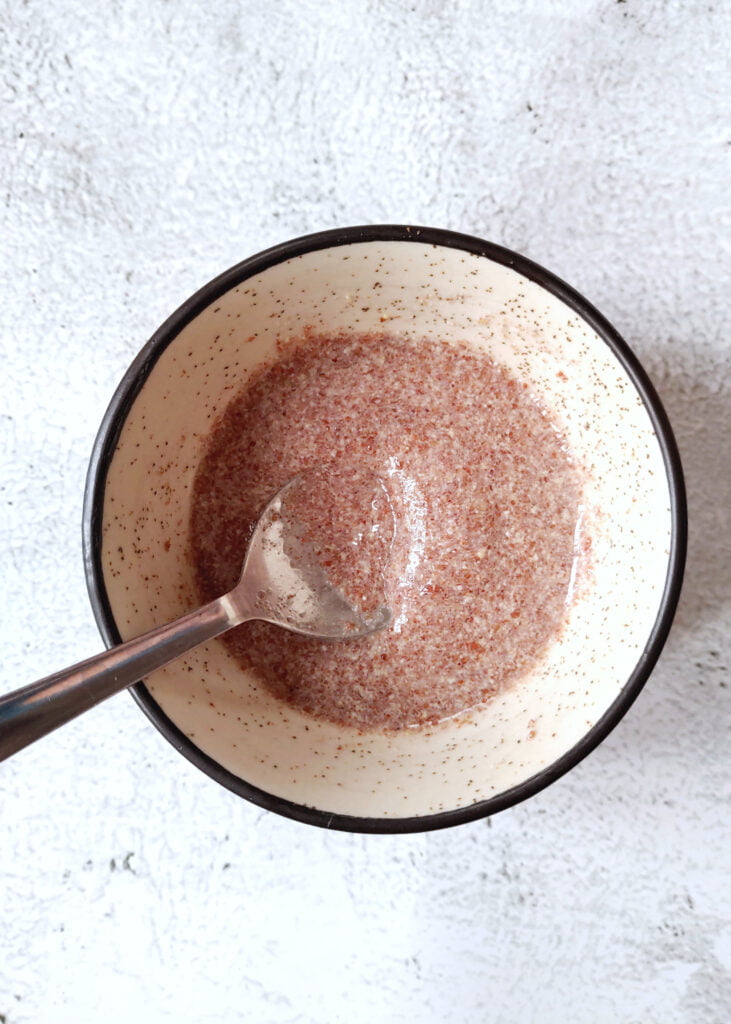 🥣 How to Make a Flax Egg
Making a flax egg is incredibly easy, and you only need two ingredients- ground flaxseed and water. Follow these easy steps to make as many flax eggs as you need for your recipes.
1. Measure the amount of flaxseed required
First, measure the amount of flaxseed required and then grind them in a spice grinder. You'll need 1 tablespoon of ground flaxseed for every 3 tablespoons of water.
2. Mix the flaxseed and water
Next, add ground flaxseed and water to a bowl and stir.
3. Let the mixture thicken
Let the mixture rest for 15-20 minutes in the fridge or at room temperature until it is thickened into a gel-like consistency.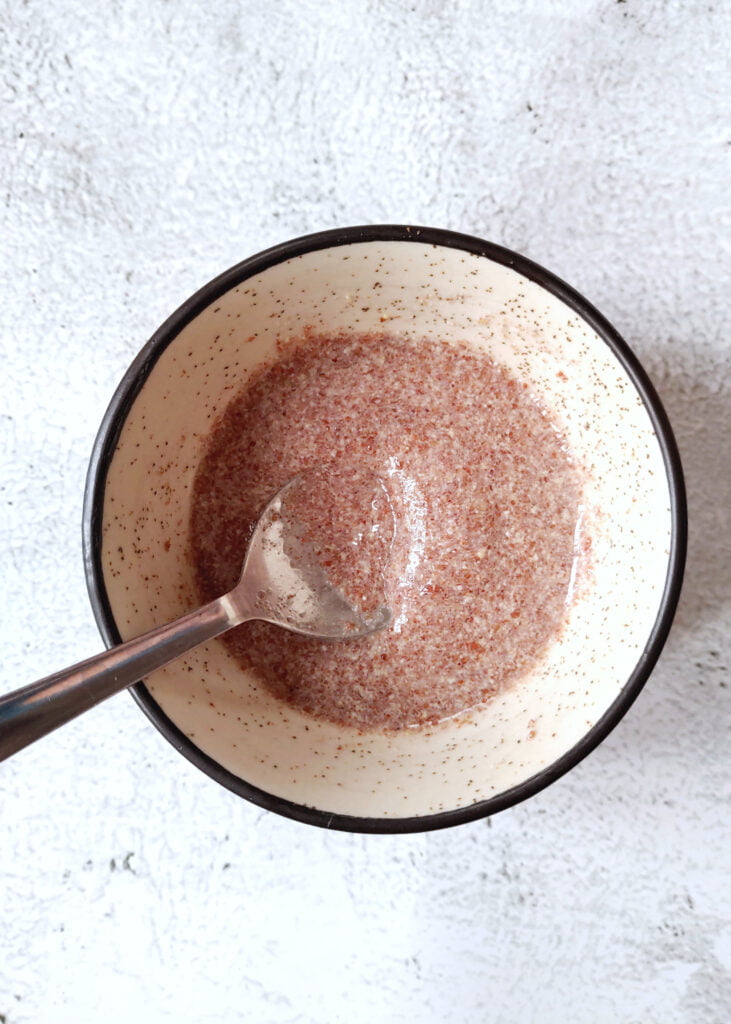 4. Flax egg is ready to use
Now, the flax egg is ready to use in cakes, muffins, pancakes, bread, brownies, smoothies, and many other recipes.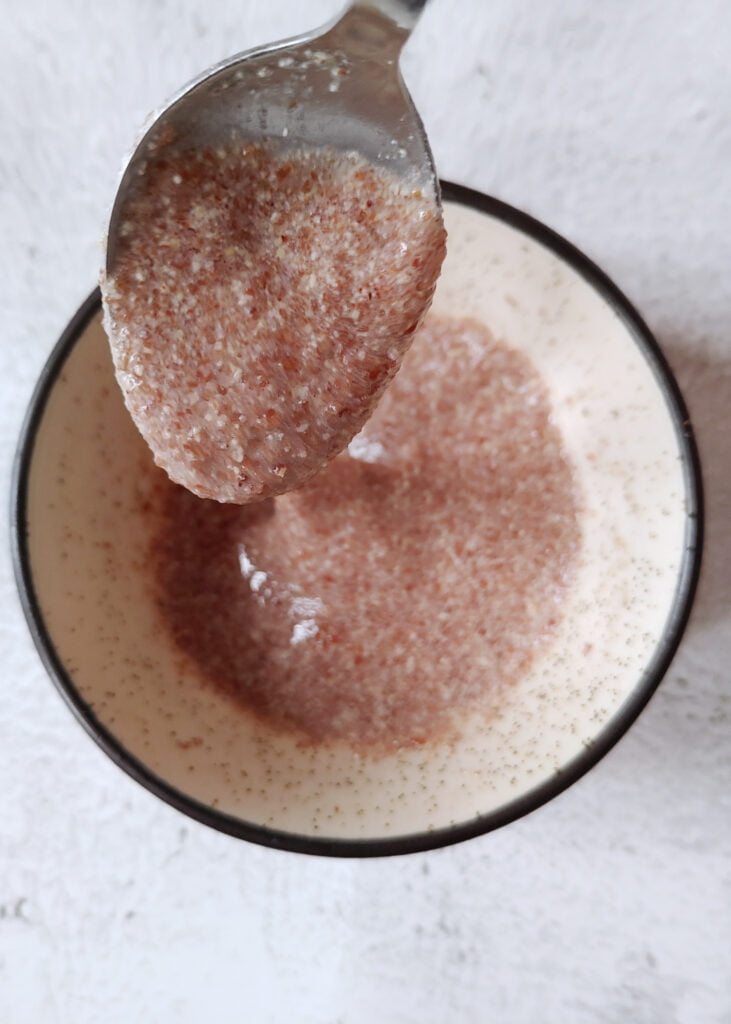 ✔️ Tips for Using Flax Eggs
Flax eggs are a versatile ingredient in recipes and can be used in many ways. Here are a few tips to use them:
1. Use the right ratio
Since we need the flax gel to be of gelatinous consistency, so maintaining a proper ratio of flaxseed and water is important. To make one flax egg, mix one tablespoon of flaxseed meal with three tablespoons of water. So, the ratio of flaxseed and water is roughly 1:3.
2. Allow the mixture to rest
Once you have mixed the flaxseed meal and water together, let the mixture sit for about 15-20 minutes. This will allow the flaxseed to absorb water and thicken up, then only it will be ready to use.
3. Use as a binding agent
One of the most popular ways to use flax eggs is in baking. They work as a great binding agent in recipes that call for eggs.
4. Try in different recipes
Flax eggs are not just an excellent alternative to eggs in baking but they are also very healthy and work well in a variety of recipes. So, feel free to use them in pancakes, smoothies, and oatmeal for extra nutrition.
5. Store them properly
If you have leftover flax eggs, then you can store them in an airtight container in the fridge for 3-4 days. Since it's quick to make, I would suggest first grinding the flaxseed and store in an airtight jar in the fridge to last for a couple of months. Then, whenever you require a flax egg, simply mix flaxseed and water together and the flax egg will be ready to use in 15-20 minutes.
If you did make this recipe, do leave a rating and comment down below, we love hearing from you! Follow us on Instagram and Pinterest to get the latest updates. 💚
📖 Recipe
Flax Egg Recipe
A simple way to make baked goods without eggs!
Instructions
Grind flaxseeds in a spice grinder.

Add ground flaxseed and water to a bowl and stir.

Allow the mixture to rest uncovered for 15 minutes to thicken at room temperature or in the fridge.

Finally, you have a mixture with a gel-like consistency. Use it as a substitute for one egg in your baking recipe.

Nutrition Information
Yield

1
Serving Size

1
Amount Per Serving
Calories

46
Total Fat

4g
Saturated Fat

0g
Trans Fat

0g
Unsaturated Fat

3g
Cholesterol

0mg
Sodium

4mg
Carbohydrates

3g
Fiber

2g
Sugar

0g
Protein

2g
The nutrition info calculated is just a rough estimate and is provided as a courtesy. Bear in mind that value will vary based on variables like a specific brand or type of product used. To obtain the most accurate representation, it is highly recommended that you calculate it on your own with the actual amount and type of ingredient used.