Mushroom Arrabbiata Pasta
A simple yet flavorful mushroom red sauce pasta made easily at home!

As an Amazon Associate and member of other affiliate programs, I earn from qualifying purchases. Please read Disclosure Policy for more details.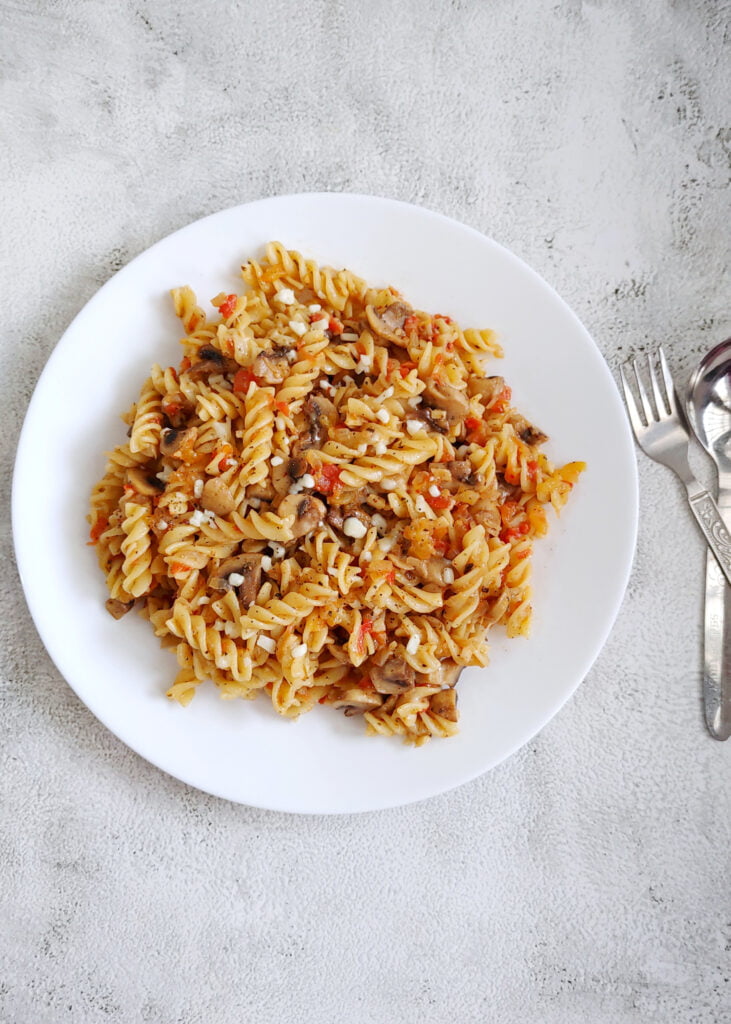 More Pasta…
If you did make this recipe, do leave a rating and comment down below, we love hearing from you! Follow us on Instagram and Pinterest to get the latest updates. 💚
Mushroom Arrabbiata Pasta
A simple yet flavorful mushroom red sauce pasta made easily at home!
Ingredients
For Cooking Pasta
For Arrabbiata Sauce
4 Tbsp olive oil
5-6 garlic cloves, finely chopped
2 medium-size onions, finely chopped
1 tsp ground black pepper
1 tsp salt
5-6 medium-size tomatoes
200 g mushrooms, sliced
½ cup mozzarella cheese (or cheese of your choice)
Instructions
Place a large pot filled with water on medium heat. Add salt, stir and bring it to a boil. Then add the pasta and cook for about 5-7 minutes or until the pasta is al dente i.e., tender to the bite but not completely mushy and not raw. Once the pasta is done, use a colander to strain, then wash it under cold water. Add the cooked pasta to a plate, drizzle some olive oil, mix and set aside.
Heat olive oil in a frying pan over medium heat. Add garlic and onions and saute for 1-2 minutes. Then add ground black pepper and salt, stir and cook for 5 minutes over low heat (careful not to burn the garlic and onions).
Meanwhile, place a pot filled with water over medium heat and bring it to a boil. Make a criss-cross slit on the bottom of the tomatoes and add them to the boiling water. Cook them for 5 minutes, remove and immediately add them to iced water. Finally, peel off the skin, finely chop them, and set them aside.
Now add sliced mushrooms to the frying pan along with Italian seasoning. Mix everything well, cover the pan with a lid and cook for about 5 minutes or until the mushrooms are tender.
Add the chopped tomatoes to the pan, stir and let them cook for 5 minutes. Now add the pasta into the simmering sauce, toss well, taste, and add salt or seasoning, if needed.
Finally, turn off the heat, add the cheese, and serve hot.

Nutrition Information
Yield

3
Serving Size

1
Amount Per Serving
Calories

1070
Total Fat

33g
Saturated Fat

7g
Trans Fat

0g
Unsaturated Fat

23g
Cholesterol

15mg
Sodium

2482mg
Carbohydrates

167g
Fiber

29g
Sugar

13g
Protein

40g
The nutrition info calculated is just a rough estimate and is provided as a courtesy. Bear in mind that value will vary based on variables like a specific brand or type of product used. To obtain the most accurate representation, it is highly recommended that you calculate it on your own with the actual amount and type of ingredient used.