Moong Bean Sprout Veggie Salad
This healthy sprouted moong veggie salad is packed with proteins, vitamins and minerals. Loaded with fresh veggies, sprinkled with few spices and tangy lemon juice, it has a magical combination of flavors.
As an Amazon Associate and member of other affiliate programs, I earn from qualifying purchases. Please read Disclosure Policy for more details.
This sprout veggie salad is a healthy and nutritious salad in which green moong bean sprouts are mixed with fresh vegetables, flavored with lime juice, and spiced up with simple dry spices. Since it has all the basic ingredients, you can prepare this simple salad in a few minutes. The only thing that takes time is the sprouting of moong which can be done beforehand and kept in the kitchen. Once you have the sprouts ready, it will take a mere 5 minutes to get this salad ready. You can serve this as a side with your meals or put it into a wrap and enjoy a delicious lunch on the go.
This Sprout Salad is,
Healthy
Quick
Easy to digest
Vegan
Gluten-free
A perfect healthy snack
A great side dish for daily meals
Easily customizable to your liking (add your favorite veggies)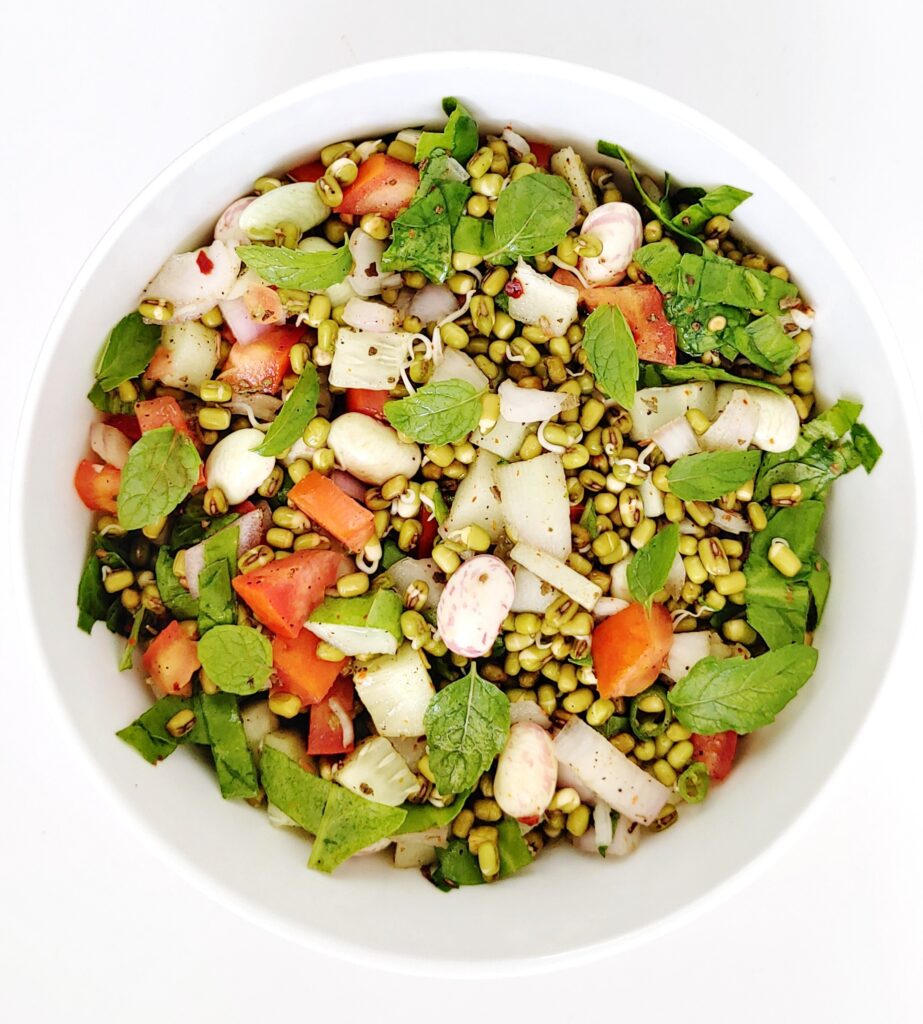 Common Frequently Asked Questions for Sprout Veggie Salad
How to make moong sprouts?
Sprouting is an easy process. Let me walk you through it:
To make moong sprouts, rinse the green moong using a strainer 4-5 times and then soak in clean water in a bowl or a mason jar.
Fill the bowl with water roughly 2-3 times the volume of the moong beans. Cover the bowl and let it soak overnight.
The next day, drain away the excess water and then rinse the swollen beans with fresh water and drain it again. Keep the beans in the same bowl and again fill with water. Cover it with a lid and place it on the kitchen countertop that's away from direct sunlight. Keep it for a day or two.
You can check after a day, if not sprouted, keep it for one more day and keep splashing some water every day over the beans so that they don't dry up.
You will see that the beans have grown in size and sprout thin white tails. Green shells may have started to come off the white bean sprouts at this point.
You can now rinse these sprouts and then spread them out in a thin layer on a tray or large plate with your hand. Using a kitchen towel, press gently to absorb any excess water. Once you've patted them dry, they are ready to be stored.
You can store them in the fridge for up to two weeks.
Now use these sprouted moong beans to make stir fry or salads.
How to boil moong sprouts?
If you do not like the taste of raw sprouts, then boil them before adding them to the salad.

To boil the sprouts, heat water in a pressure cooker, add the sprouts, and then pressure cook for about 2-3 whistles. Or you can heat water in a saucepan, add the sprouts and boil them for 10 -12 minutes.
Can I refrigerate this sprout salad?
Of course, you can! Just make sure not to add any spices or lemon juice to the salad while storing it. Simply toss the veggies with sprouts and store them.
This salad will store well for up to 24 hours in the refrigerator. When ready to serve, mix in the spices, and lemon juice and combine it well.
Can I freeze this sprout salad?
You can but I feel that food should be enjoyed fresh, especially salads. If you want to freeze this sprout salad, then blanch the raw sprouts in hot water for 2-3 minutes. Allow it to cool, store it in an airtight container and freeze.
More Salad Recipes
Chickpea Salad with Tahini Dressing
If you did make this recipe, do leave a rating and comment down below, we love hearing from you! Follow us on Instagram and Pinterest to get the latest updates. 💚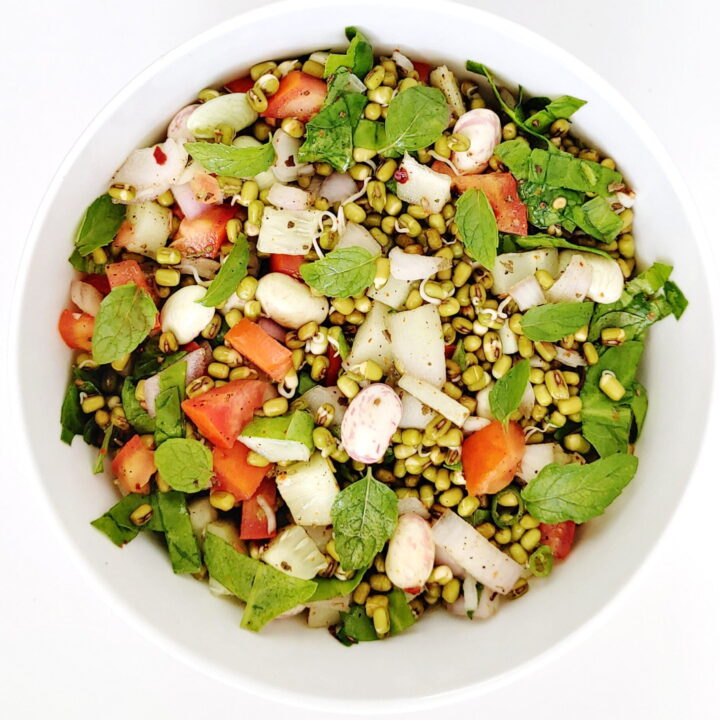 Moong Bean Sprout Veggie Salad
This simple yet filling healthy sprout salad is a super quick recipe and is loaded with veggies.
Ingredients
1 cup boiled sprouted moong (whole green gram)
1/4 cup finely chopped onions
1/2 cup finely chopped tomatoes
1/2 cup thinly sliced cucumber (seeds removed)
1 cup spinach, chopped
1/2 cup edamame beans
2 tsp lemon juice
1/2 tsp finely chopped green chillies
8-10 mint leaves
1/2 tsp black salt
1/2 tsp paprika
1/2 tsp dried basil
Instructions
Combine all the ingredients in a large bowl and mix them well.

Serve, and enjoy!

Nutrition Information
Yield

2
Serving Size

1
Amount Per Serving
Calories

225
Total Fat

3g
Saturated Fat

1g
Trans Fat

0g
Unsaturated Fat

2g
Cholesterol

0mg
Sodium

671mg
Carbohydrates

37g
Fiber

17g
Sugar

6g
Protein

17g
The nutrition info calculated is just a rough estimate and is provided as a courtesy. Bear in mind that value will vary based on variables like a specific brand or type of product used. To obtain the most accurate representation, it is highly recommended that you calculate it on your own with the actual amount and type of ingredient used.